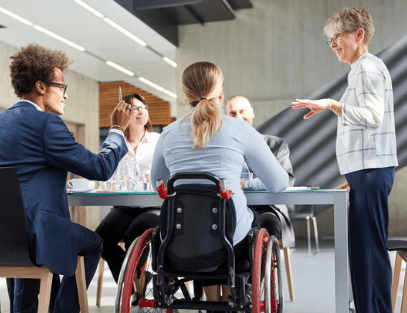 In 2021, Taft took its long-held core value and commitment to diversity, equity, and inclusion to the next level by forming a council comprised of a cross-functional team of employees whose charge is to create and ensure implementation of an action plan designed to advance justice, equity, diversity, inclusion (JEDI) within the firm, and in the world. This JEDI Council carries out our vow to "practice what we preach" by being transparent about our starting point, aspirations, and progress along the way.
We identified a broad set of actions and activities that would advance our mission and touch all parts of our business in the following categories:
Public education and impact
Marketing and communications
DEI Core Client Focus Area
It was an ambitious plan for a firm of our size, but it reflected the depth of our commitment, from the top down. Success was dependent on engaging every team member, tracking our progress, acknowledging milestones, and working through barriers. A detailed scorecard kept us on track and was shared throughout the year with the entire Taft team for complete transparency and accountability. Our efforts resulted in several significant achievements, including:
Increased racial/ethnic and gender diversity of staff by combined 10%
100% of staff participated in individual and/or group learning opportunities
Hosted monthly internal Feelings Forums to sustain culture and provide employees with healthy outlet during which they can share resources, have discussions, listen to each other, and celebrate diversity.
Published blogs related to DEI more than quarterly
Shared original posts on social channels related to JEDI topics quarterly
Matched employee charitable donations to nonprofit organizations focused on justice, equity, diversity, and/or inclusion
Increased spend with BIPOC, women, LGBTQ+, veteran, and disability-owned businesses for ongoing business needs and single-use activities
Added new BIPOC creatives and vendors to our network
As we sought to achieve our goals, we also had to be agile in our thinking and execution. While COVID made it difficult to coordinate a desired community service event and an all-team community event to advance JEDI, we in turn sought and engaged in virtual trainings and educational opportunities.
Employee involvement is an important part of meeting our goals and making a lasting impact on our internal culture, and we continue to measure our staff's connection to our JEDI efforts and how we deliver on our commitments, which we hope to strengthen in 2022 through ongoing awareness and inclusion efforts and responding to concerns or issues raised as quickly as possible.
"The JEDI Council has been an important part of holding ourselves accountable and ensuring that we are reaching our goals as an organization," says Hannah Bealer, digital manager and JEDI Council member. "It's inspiring to see how our entire team has gotten behind this."
All in all, it was a powerful year. We chose to aim high and we are very proud of the progress we made. We know that this work is not about checking boxes, but instead a long-term cultural change that takes time and consistency.
For 2022, we have refreshed the JEDI Council with new members, appointed a new leader in Caitlin Chase, associate director, and established new actions to help us refine our goals and benchmarks, and maintain momentum. Our 2022 goals include:
Talent
Increase the racial/ethnic diversity of the Taft team by further increasing the number of BIPOC employees hired in 2022.
Balance gender diversity by increasing the percentage of  employees who don't identify as a woman, with at least one  candidate who identifies as a man interviewed in every hiring search.
Ensure pay equity by reviewing current compensation with an HR consultant and considering the market and peer companies.
Require managers to work with direct reports to develop and implement plans to grow and advance professionally.
Senior Leadership Team members will include DEI-related goals in their annual performance plans.
Cultural inclusivity
Monitor team wellness and Taft culture through quarterly surveys and a yearly culture survey and respond to issues and concerns within 30 days.
Acknowledge national heritage/history holidays and months that recognize and celebrate various communities
Conduct at least one company-sponsored, all-staff training on unconscious bias, intergenerational workplaces, and/or racial injustice
Seek to achieve 100% participation in individual cultural competency learning opportunities.
Continue to use our "Purpose & Impact" Teams channel to share and recognize JEDI-related issues within and outside of our walls
Continue to host regular Feelings Forums
Public education and impact
Educate, involve, and engage stakeholders and support equity, inclusion, and justice through:
Dedicate Taft blogs to DEI topics and position diverse voices within the organization as thought leaders.
Continue as an active member of the New Jersey Business and Industry Association's D&I Executive Roundtable and PROI's ESG sector group.
Marketing & communications
Maintain and follow inclusive style guides so that our language, design, images, and events are accessible and reflect our values.
Use asset-based language that describes people based on their strengths and aspirations rather than their deficits.
Use social media at least four times per month to share relevant content.
Develop an inclusive image bank of stock photos for marketing materials.
Expand our Taft media list/network and include BIPOC publications in client pitches/planning as appropriate.
Business operations
Increase spending with businesses owned by systemically marginalized groups.
Diversify Taft vendors with an emphasis on underrepresented businesses for a variety of services and subcontracts.
Continue to identify and utilize BIPOC subcontractors and consultants.
DEI Core Client Focus Area
Engage with partners as needed to deepen our knowledge and skills and help clients communicate their DEI initiatives effectively.
Maintain active membership with organizations within our industry that focus on DEI, such as:

Diversity Action Alliance
PR Council DEI Committee
PPRA DEI Council
PRSA NJ DIB Committee
We are excited to continue our efforts to recruit, retain, and advance people within the firm; foster cultural inclusivity; build our DEI network; ensure our public communications meet our DEI and accessibility standards; make our operations more diverse and equitable; and increase the expertise we can bring to clients, to make Taft and the broader community the very best it can be.
As members of the larger communications community, we welcome insights and activities that can help us be better as we learn and grow in our JEDI efforts. We also invite all who are supporting similar efforts in their organizations to share their commitments publicly – together we can create sustainable and equitable change.
If you have a comment or question about our JEDI Council or its work, please contact us via the form below. If you are interested in Taft communications support for your own DEI initiatives, please contact our DEI focus area lead, Sheila Cort.