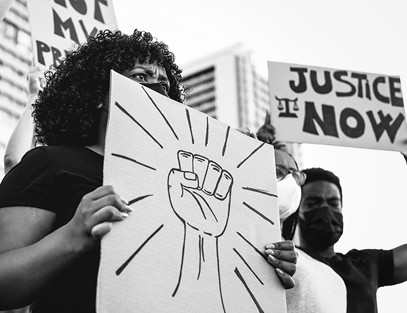 A Long Talk is using clear communication to empower anti-racists
Why is it so hard to have a conversation about racism in America and its impact on the racial disparities faced by our society today? This is the question the founders of A Long Talk About The Uncomfortable Truth set out to answer and solve for in the wake of the brutal murders of Breonna Taylor, Ahmaud Arbery and George Floyd in 2020.
As engagement in the Black Lives Matter movement surged across the nation, many felt empowered to join the fight for long overdue racial equality in America yet struggled as to how to maintain momentum. Reactive acts of solidarity are a vital part of the process, yet the battle to dismantle systemic white supremacy and achieve justice and equality requires ongoing, active participation.
It's not enough to be non-racist — this work requires vocal anti-racists.
A Long Talk About The Uncomfortable Truth, founded by Kyle Williams and Kamal Carter, both experienced and innovative educators, activists and leaders, has a singular goal – to have an anti-racist at every dinner table in America.
Click to tweet: Why is it so hard to have a conversation about racism in America and its impact on the racial disparities faced by our society today? This is the question @ALongTalk2020 set out to answer and solve for: http://ow.ly/sm5q50F3214 #antiracism #communications @taftcommunications
When a friend of Taft recommended the new initiative to the firm, we were immediately intrigued. It was clear that Williams and Carter had devised a fresh and powerful approach to the anti-racism conversation that needed to be heard.
A Long Talk tackles the colossal task of dismantling racial oppression through a series of hosted conversations that facilitate deep listening, provide tools for productive introspection, and ultimately empower, energize, and activate participants to become more effective allies in the pursuit of this shared purpose.
Open to public and private groups and individuals, the three-day (4.5-hour) A Long Talk experience fosters brave spaces where anti-racism can be vocalized and practiced for real-time feedback.
The first step of this process builds a foundation of common understanding and knowledge. Prior to the experience, A Long Talk participants complete pre-work that exposes America's true history — a history of systemic oppression that many history books have strategically excluded. Through this curated series of articles, soundtracks and videos,

participants begin to grasp the consequences of not grappling with our shared reality.
Three days to empower anti-racists
Day One of the experience creates intentional space to process the anger and pain that come from uncovering these painful truths. Participants may walk away from these initial conversations feeling ashamed, discouraged, or angry, yet encouraged to trust the process and eager to learn and get "active."
That initial sense of overwhelm is transformed into action on Day Two, as conversations shift focus toward the tools necessary to disrupt this system. Participants are given an effective framework for engagement, and practice safe ways to intervene and disrupt racist behaviors.
On Day Three, determination and commitment emerge. Participants feel inspired to be the change agents they now know they can be. This sense of empowerment builds bravery as participants commit to their own action plans to ensure they will maintain an anti-racism presence in the spaces they occupy. Following the experience, A Long Talk offers several free community programs for continued action, including a year-long Pillars of Change affinity and accountability group, movie and book discussions, networking, and other activities where everyone shares and learns together, reinforcing each other.
Struck by the power of the new platform, Taft saw the opportunity to further the firm's internal anti-racism work and use the Taft communications toolbox to help the new initiative get further exposure. This summer, the entire firm will have gone through the experience, and delivered more than eight months of pro bono support to the A Long Talk team's communications efforts.
In order to stand out in an increasingly crowded space, we tapped into A Long Talk's core differentiators — talented facilitators with extensive backgrounds in innovative education, strong foundations of common understanding for constructive conversations, and continued engagement through ongoing programming — and built messaging documents to help A Long Talk's leaders effectively market and promote their organization. A coaching session helped prepare them to speak with media and potential clients to represent their work and organization in a compelling way, and an editorial calendar and social media plan were created to support their channels.
"A Long Talk About the Uncomfortable Truth is making great strides to empower participants to dismantle systemic and institutional methods of oppression; it's work that Taft has been honored to support," said Sheila Cort, senior director and coach at Taft Communications. "What we've learned with A Long Talk will certainly enhance our own DEI communications practice; we know it will further strengthen our diverse and inclusive culture and help us better support our clients."
Racism in America is systemic and damaging, and the work of dismantling racial oppression is challenging, emotional, and absolutely necessary. A Long Talk About The Uncomfortable Truth is the beginning of an ongoing conversation focused on truth, understanding, and problem solving, leading to individual and cooperative activism, and bold, honest, and lasting change.
To learn more about A Long Talk About the Uncomfortable Truth and participate in a public or private anti-racism experience, visit alongtalk.com 
If you'd like to learn more about Taft's DEI Communications services, get in touch via email or the form below.