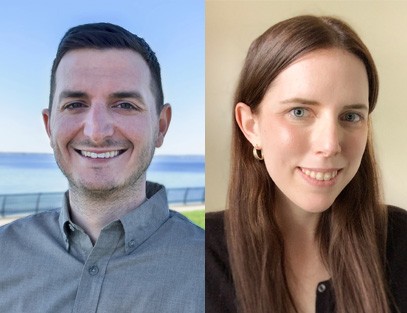 Taft continues to grow with the additions of David Ferraro and Hannah Bealer
Lawrenceville, NJ (August 24, 2021) — Taft Communications today announced two additions to its expanding team — David Ferraro as graphic designer and Hannah Bealer as digital manager. Each brings a unique toolkit of creative, digital, and social media skills to enhance Taft's range of client services.
Ferraro works with Taft's internal team to interpret and execute the design needs of such clients as ReThink Energy NJ and HomeFront. He also develops material for Taft's own marketing department. He previously worked at QVC, producing email campaigns for high-profile retail clients and user-focused web pages. The New Jersey native has a bachelor's degree from Rutgers University in geography with a minor in environmental planning and is a member of the American Institute of Graphic Arts.
As an award-winning journalist, Bealer taps into her storytelling and digital skills to service a variety of Taft clients, including New Jersey Health Initiatives and Bristol Myers Squibb. As Taft's digital manager, she's responsible for strengthening client brands and visibility, building strong online communities through numerous social platforms and on-message digital marketing campaigns. Before joining Taft, she was the social media manager at COSI – Center of Science and Industry in Columbus, Ohio. Bealer holds a bachelor's degree in print journalism from Bowling Green State University and spent time at Keele University in the United Kingdom.
"Expanding our creative and digital teams enables Taft to strengthen the services we can provide to our clients across a wide variety of areas," said Ted Deutsch, CEO of Taft. "David and Hannah are terrific additions to our creative team."
About Taft Communications
Taft is a communications consultancy with more than 35 years of experience. Through strategic communications and leadership development, Taft guides clients to meaningful expressions of purpose to drive positive impact — for all stakeholders, including their customers, employees, shareholders, communities, and the earth and environment.
Over the years, Taft has developed deep expertise in several specialty fields. In 2001, we launched PharmApprove®, which was sold to drug development consultancy NDA Group in 2016. Taft ClearPoint®, the firm's practice in leadership communications, is the go-to source for leaders and aspiring leaders who want to acquire the skills needed to master today's "constant conversation."
Learn more at taftcommunications.com and follow @TaftComms on LinkedIn, Twitter, and Facebook.
# # #