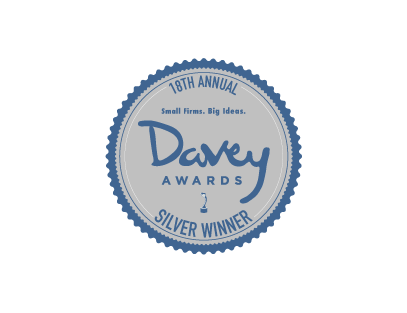 Princeton-based firm receives 2022 silver awards for videos
Lawrenceville, NJ (November 9, 2022) – Taft Communications, a purpose-focused communications consultancy, has been recognized with four 2022 Silver Davey Awards for its work with two clients, the Robert Wood Johnson Foundation and ReThink Energy NJ.
The Davey Awards, judged by the Academy of Interactive and Visual Arts ("AIVA"), is an international award focused on honoring outstanding creative work from the best small agencies from around the world. The 18th Annual Davey Awards received more than 2,000 entries from ad agencies, digital agencies, production firms, in-house creative professionals, graphic designers, design firms, and public relations firms.
"We Stopped PennEast," a video produced for Taft client ReThink Energy New Jersey, received Silver Awards in two categories: "Charitable/ Non-Profit for Online Film & Video" and "Social Responsibility for Online Film & Video." The video was created to celebrate the nonprofit organization's win over PennEast and serve as a reminder that work is not done to address climate change. This campaign has also been recognized by PRSA NJ.
"New Jersey Needs a Public Health Institute," a video produced for Taft client Robert Wood Johnson Foundation, received Silver Awards in two categories: "Charitable/ Non-Profit for Online Film and Video" and "Social Good for Online Film & Video." The video was created to emphasize RWJF's finding that a public health institute is essential to furthering health equity in New Jersey.
"Taft is proud to be among this year's winners," said Taft Creative Director, Aaron Brown. "Our passion is creating work that both engages viewers and, once we have their attention, motivates them to take action. I'm pleased to see both of these videos connect, and even more excited to help advance stories surrounding critical topics in New Jersey — health equity and environmental sustainability."
About Taft Communications
Taft is a communications consultancy with nearly 40 years of experience. Through strategic communications and leadership development, Taft guides clients to meaningful expressions of purpose to drive positive impact — for all stakeholders, including customers, employees, shareholders, communities, and the earth and environment. Taft ClearPoint®, the firm's practice in leadership communications, is the go-to source for leaders and aspiring leaders to acquire the skills needed to master today's "constant conversation." Learn more at taftcommunications.com and follow @TaftComms on LinkedIn, Twitter, and Facebook.
About the Davey Awards
The Davey Awards exclusively honor the "Davids" of creativity, the finest small shops, firms, agencies, and companies worldwide. David defeated the giant Goliath with a big idea and a little rock – the sort of thing small agencies do each year. The annual International Davey Awards honors the achievements of the "Creative Davids," who derive their strength from big ideas rather than big budgets. The Davey Awards is the leading awards competition specifically for smaller agencies as they compete with their peers to win the recognition they deserve. Visit daveyawards.com for more information.
# # #