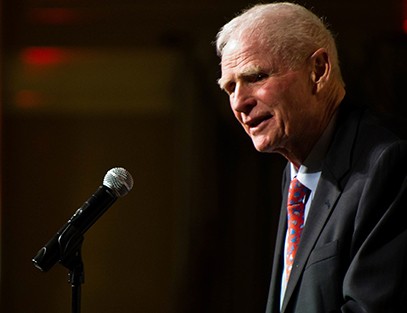 Sometimes, the person meets the moment, and the country, or a state, leaps ahead. The New Jersey we love hasn't always been in step with the times. For years, the Garden State lived far below its potential. Public investment in schools, transportation, a clean environment, and other building blocks of prosperity lagged. A sense of common purpose was severely lacking.
Gov. Brendan T. Byrne, who died this week at age 93, was a leader who rose to this challenge. He stepped in to safeguard the precious Pinelands from development. He led the fight for resources needed for education equity. The stands he took weren't always popular at the time. As he'd quip, "They took a poll; half the people said they wouldn't bother to walk across the street to spit at me – and the other half said they would."
When Byrne ran for reelection in 1977, the pundits declared that "the man who couldn't be bought" was now the man who couldn't be sold. Some referred to him as "OTB," for "One-term Byrne." So much for pundits. Byrne won in a landslide, not only defending the state income tax he signed into law, but also going on offense. He attacked claims of his opponent, State Sen. Ray Bateman, that the state could thrive without the added revenue. Under pressure, Bateman turned to former U.S. Treasury Secretary William Simon, a New Jerseyan, for cover. They released what they called the Bateman-Simon Plan, which Byrne cleverly mocked as a "B.S. plan" for running New Jersey.
Today, New Jersey faces another of those pivotal moments, as The Fund for New Jersey points out in its Crossroads NJ  series of policy reports released throughout 2017. As we reflect on Gov. Byrne's passing and his legacy, let's hope our state is again led by people who put principle ahead of popularity and get New Jersey back on track.
Jon Shure is a senior director at Taft Communications. He was the communications director for former New Jersey Gov. James Florio.