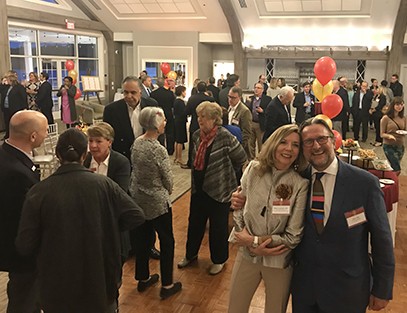 This article was originally published on NJBIZ on November 5, 2018.
By Pete Taft and Mara Connolly Taft
You learn a lot when you're in business for 35 years. How to find — and keep — clients. How to keep them happy by leveraging your strengths. How to grow and build the right team. When to invest in risks.
But our shared bottom line after almost four decades working throughout New Jersey and the world is somewhat Zen-like and actually very simple: Everything changes — and yet everything remains the same.
We'll explain.
We founded Taft Communications out of a rambling rented farmhouse in 1983. It was a time when computers were a novelty, a fax machine cost $300 and racing to make the last FedEx pickup (with a daughter in tow) was a daily routine.
Corporate clients were accustomed to investing in their reputations and their brand, building businesses with people they trusted. Foundations were reluctant to toot their own horns, and shied away from the limelight. Nonprofits were often inexperienced about creating communications strategies.
Over the years, there's been a fundamental shift amongst our clients. Corporations are leaner and bolder, working now not only with global communications firms, but with smaller shops, too.  Foundations now gleam in their own spotlights, able to focus on more targeted funding opportunities and more enthusiastic employees. And nonprofits have adopted more sophisticated tools and strategies.
But here's the biggest change: Everyone — from corporations to soup kitchens, from universities to startups — is far more sophisticated in their messaging, media and outreach, challenging us to think outside the box to "inspire their audiences to action," as we like to say at Taft.
Now all of them know how critical smart communications — branding, marketing, advertising, public relations — are to their enterprises. We no longer have to persuade them to communicate crisply to their target audiences.
What changed? Essentially, the entire media landscape.
Thirty-five years ago, three major networks and a few dozen newspapers controlled the conversation in America. If you wanted to get your brand noticed, a campaign running on CBS, ABC or NBC primetime or an op-ed in The New York Times, Chicago Tribune or Washington Post (or even your local paper) would suffice.
Now, the number of ways you can communicate with your audience is daunting. Blogs, Twitter, Snapchat, Facebook, messages, notifications and other social media tools are part of our daily (hourly) routine. Hundreds of cable channels, podcasts, online magazines and other digital versions of "traditional" media compete 24/7 for our attention.
This dramatic media landscape expansion has provided our clients with important opportunities and cemented the importance of communications. However, it has also generated an astonishing level of noise, confusion and stress that bedevils even the most strategic of clients. This is concerning from a business and individual point of view, but therein, ironically, lies the good news.
Amidst all the pressures today, our clients are rediscovering two important, eternal truths that were almost forgotten in the rapid ascent of this digital age.
The first is that there is no substitute for clear, compelling storytelling. Thinking, speaking and writing clearly will always be paramount to good communications, and has never been more highly valued.  You can send a tweet in a nanosecond and post on Facebook in a heartbeat. But unless what you're saying has meaning and true relevance to your audience, you're wasting your time.
The second truth is even more important: In the height of the digital media heyday, we find our clients slowly but deliberatively returning to "pre-internet" behaviors. They're turning off their cellphones, leaving their computers to chat face-to-face with others. They're listening better and taking a beat to think through the impact of what they say. They're being more patient and thoughtful. They're rediscovering what it means to be present in the moment, to colleagues, customers and other key partners.
The digital world around us continues to grow more massive and faster every day, and that growth will continue to challenge what it means to do business in the 21st century and beyond. We can't imagine how thrilling that future will be.
But after 35 years, we're encouraged to see signs of a shift to what's truly important in business and in life: Clarity. Integrity. Transparency. And a desire to communicate clearly, deeply, fully and humanly with one another.
The noise has created this conversation. If that's not Zen, we don't know what is. Yes, everything changes. But everything remains the same.
Husband-and-wife team of Mara Connolly Taft, a former advertising executive and creative director, and Pete Taft, a former journalist, founded Lawrenceville-based Taft Communications in 1983. Both the couple and firm have won numerous awards for their work, including two from NJBIZ.