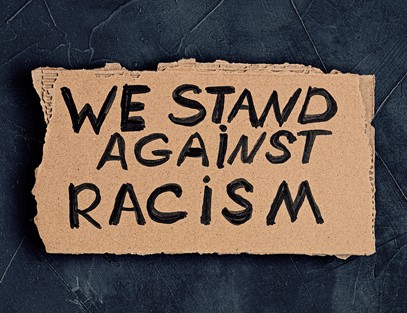 This year we find ourselves marking many "one year since" milestones from 2020. There was the day in March when millions began a COVID lockdown. There will be early November, a year after the momentous presidential election. But in many ways the most jarring week of 2020 was when the world witnessed, mourned, and responded to the murder of George Floyd.
One year after the country rose up in outrage over yet another painful example of the mistreatment of Black Americans, and police brutality, people around the world continue to speak out and show up. Memorials have been established. Moments of silence take place. One year later, it is very fitting that we acknowledge what has changed… and, more importantly, what still needs to be done.
Many of us have felt fear and anxiety over these long months — and, especially as it relates to systemic racism — despair, anger, and even guilt. We are a nation divided, all too apparent on many levels. Yet the majority of the country has come together, speaking out, supporting our friends and neighbors of color… creating good change.
There is a palpable sense that the emotions unleashed widely in 2020 are leading to a deeper commitment to ending the scourge of racism that has dominated our history. But we still have far to go.
Personally, I know that I look at every conversation differently, and every interaction with a new lens. I view trends in my community, and the nation, with a more clear-eyed awareness of the challenges non-white Americans (particularly Black Americans) face each day.
Like many, I've been moved by many readings, experiences, and conversations over the past year. Just one example came from a friend who grew up in the progressive and relatively affluent town I live in today, where he remains active in local business and on a board where we both served. In the course of talking about his experience as a Black man in America last spring, he confided that he always avoids driving into our downtown at night. Over the course of his 25+ years of adulthood, he has been pulled over countless times for no reason. With a mix of resentment and resignation, he explained that he simply chooses to stay away from the town he grew up in.
The raw indignity of his reality sparked such sadness and anger. It's just one of a million insidious ways racism, sometimes on the front pages and sometimes invisible to most white Americans, has infected our daily lives. It is just one piece of evidence that demands we each more effectively call out injustice — even inhumanity — both in our private and our professional lives.
At Taft Communications, we have a long history of being committed to diversity and inclusion, including a five-year annual survey that raises awareness about the State of DiversitySM in New Jersey. In an industry that historically struggles to attract, retain, and promote diverse talent, I am proud that 25 percent of our core team of 28 employees and consultants are people of color — and five of our nine senior leaders and partners are women.
But we clearly have more work to do; and it requires focus and commitment. Like so many others, we recognized in 2020 that we needed to do more — and be more intentional in how we do it.
Last year we started building a metrics-driven plan, which we gradually adapted into a Justice, Equity, Diversity, & Inclusion (JEDI) plan. To be more specific, our efforts are focused on:
Talent (recruitment, retention, and advancement), including achieving better racial and gender balance on our team
Cultural inclusivity, including adding paid holidays like Juneteenth and conducting staff anti-racism training through our partner A Long Talk About The Uncomfortable Truth
Public education and impact, including continuing our annual survey, hosting a webinar on communications and racial equity, and providing pro bono support to organizations working to end racism and promote social justice
Taft marketing and communications, including adopting an inclusive style guide and using our own social channels to promote anti-racism content
DEI as a core client focus area, led by Taft Senior Director Sheila Cort, including helping clients communicate their own work in this space
Business operations, including very consciously adding more BIPOC-owned businesses to our vendor network
We are committed to our plans — and measuring our own progress against specific goals. That is the least we can do.
Meanwhile, as we observe this sad day for the family of George Floyd, and the nation, I worry there's a danger that the collective relief that comes from progress against COVID could lead to complacency in the fight against racism in America. We've had other moments of progress, going back to the Civil War, that failed to lead to enduring equality. George Floyd was not the first or last person of color to die at the hands of police brutality. We cannot let a potential return to normalcy in health bring with it a renormalization of systemic racism.
On this anniversary, it is very fitting to remember and honor those who have been murdered and/or victimized. Words are important, but we each need to recommit to fighting for change and making a difference wherever we can. That means creating inclusive and just workplaces, communities, and bringing sustainable change to the nation as a whole.
There's no more time to waste. Count Taft in.