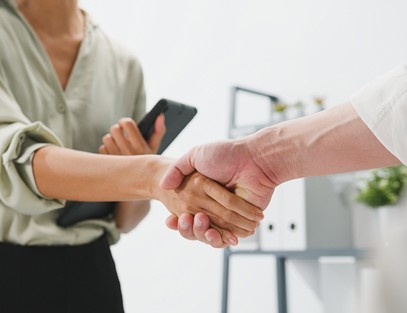 This article was originally published on ROI-NJ on August 6, 2021.
Choosing a strategic communications firm to help get your story told isn't quite like getting married — then again, maybe it is.
To do it right, you need to ask a lot of questions — including of yourself — and do everything you can to get to know your potential partner. And no matter how much homework you do ahead of time, you still might find you didn't make the best match.
Here's some advice to help you make the right decision (in choosing a PR firm; when it comes to marriage, you're on your own):
Do you know what you want?
It's okay if you don't. Good firms will query you to get at your needs, whether you know those needs or not. Still, go into the search with some sense of what you're looking for. If you're a small business that started up two weeks ago, it's a little early to ask a comms firm to get you on the front page of The New York Times. A more realistic question would be, "Can you get articles about our work into publications covering our industry?"
Click to tweet: These 10 tips from @taftcomms will help you choose the right #PR firm for your organization or company's needs: http://ow.ly/ItPs50FOn1X #strategiccommunications
Do you want a) a partner, b) a pushover, or c) a bully?
I hope you chose "a," but not every client feels that way. Ideally, you want creative people who feel your passion, push you a bit out of your comfort zone, and are willing to take the time to get it right. But if your approach is closer to "b" or "c," look for a firm that's willing to take on such a relationship. Before talking to firms, ask yourself, "What's it like to work for me?" If you know your style, be upfront in sharing that information.
Are you willing to engage in give and take?
It's a rare occurrence for any PR firm to give a client a written draft or layout design — or anything — and have the client say, "Perfect! Don't change a thing." But some clients seem to expect that. The more willing you are to engage in a bit of back and forth, the better the deliverables will be. When you interview firms, find out how they view that process. The best ones will show a willingness to have an ongoing dialogue with clients.
Know, and share, your internal approval process
As important as it is for a PR firm to deliver when it says it will, it's also important for the client to be responsive with providing feedback. If you want an accurate estimate of how long a job should take, make clear whether the approval process is just you — or 12 people who take a long time to respond.
Listen to whether they listen
As discussed above, the best PR firms exude curiosity. They'll ask you as many questions as you ask them — maybe more — and listen closely to what you say. That's a good thing; don't take it as a sign of weakness or uncertainty. It helps us understand your needs and develop an on-target budget.
Find out who you'll be working with
Remember "Mad Men?" Roger was the schmoozer but Don did the work. Some firms are into bait and switch. The highest-level people close the deals and give the impression they'll always be around — then the client works with the most junior people on the firms' team. They might be superstars someday but they don't have the chops yet. Ask who'll be on the team serving you day to day.
Check out a firm's background
On their websites, most firms look pretty much alike. And, in fairness, most of us do a lot of the same things. So look into who their clients are and what fields of expertise the firm and its staff have. If you're a health care business, you might not want to gamble with a firm whose book of business mostly relates to retail operations.
Ask around
Talk to people you trust about firms they've used. Interview clients and former clients of the firms you're considering. One caution: No PR firm has ever made all of its clients happy. So, don't just talk to one or two clients. It's also a good idea to ask PR firms you're considering for a short meet-and-greet, to learn more about them and get a sense of the vibes.
Have a budget
That's good advice for anything you want to buy. If you've never worked with a communications firm, you might not have a sense of the market — so maybe you can't arrive at a budget until seeing some proposals. But at least know, going in, what you can and can't afford. Make your values part of this process, too: some PR firms charge more so they can pay their staff good wages, provide decent benefits, and keep good people; some charge much less, run their staffs ragged, and have high turnover as part of their business plan.
On the flip side, ask firms you have under consideration to include a detailed and itemized budget in their proposal — keeping in mind that things can change once the work begins. Giving a prospective firm a budget range to work with when developing a proposal will help make sure you get one that's tailored to your needs and budget.
Don't expect the work before you sign a contract
Some potential clients ask firms competing for their business to present a proposal so detailed that it involves giving away what they'd charge for. Help your suitors find the happy medium between only showing you past work and expecting them to give you a finished product before you hired them.
If you follow these 10 tips — they might not rise to the level of commandments — your chances of getting the right PR firm for your needs will increase. And we hope someday our paths will cross.
If you're looking to work with a firm that specializes in purpose and social impact communications, get in touch to see how we can help. Send an email or fill out the form below.