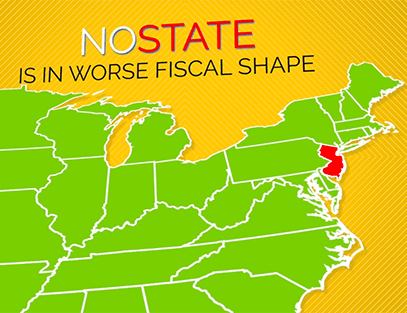 The Fund for New Jersey, a leading New Jersey foundation, turned to Taft for communications help in launching Crossroads NJ, a series of reports laden with evidence-based recommendations for policy reforms. Crossroads NJ lays out a set of serious alternatives to the challenges of a deteriorating financial situation, failure to maintain transportation infrastructure, an inadequate response to climate change, and other systemic threats to the wellbeing of the Garden State.
Taft provided broad-based assistance including editing, social media, PR, digital advertising, and design and production of an animated video aimed at making the issues understandable and driving people to the Crossroads NJ website.
The seven reports, released between June and Election Day, cover state fiscal reform; creating a stronger economy; dealing with climate change and the environment; housing and land use; transportation; education; and criminal justice.
As the prologue to the series made clear: "Despite New Jersey's strengths… the future prosperity of our state is at risk. We have, for years, refused to make the public investments needed for New Jersey's communities to thrive and, by those decisions, have squandered our potential. Yet, the 'crossroads' we have reached is also a time of opportunity."
"We were grateful for the chance to partner with a key New Jersey thought leader on a project aimed at raising public awareness of severe problems and offering a clear path toward solutions at a crucial moment for the state," said Senior Director Jon Shure. "An engaged public is essential to a New Jersey turnaround, and these reports should be required reading for policymakers and advocates."
The project spotlights Taft's increased involvement in public policy communications. Shure and Taft Vice President Jayne O'Connor have served in senior-level communications positions with past New Jersey governors and the Taft team has worked on dozens of statewide campaigns over the last three decades.