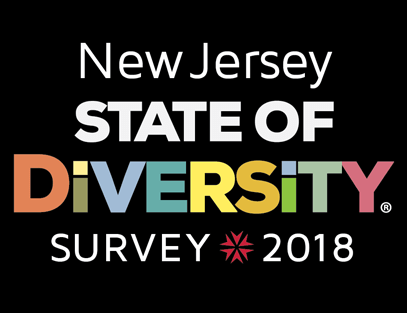 Third Annual Statewide Survey Shows Changes in Perceptions of Diversity Across New Jersey Workplaces
Diversity interaction outside workplace catching up to diversity at work
Respectfulness in the workplace on the rise
More non-whites and college educated see diverse teams driving better results
LAWRENCEVILLE, NJ (July 10, 2018) — Interaction among people of different ethnic and racial backgrounds is growing in New Jersey, as the gap between diversity in the workplace — where interaction already was high — and elsewhere is closing. Younger people continue to be the most likely to experience diversity in and out of work, with other age groups catching up, finds the third annual New Jersey State of Diversity® Survey, commissioned by Taft Communications (Taft) and the New Jersey Business & Industry Association (NJBIA).
Among all employed New Jerseyans, 88 percent said they interact at work daily with someone of a different race or ethnicity, compared to 86 percent last year and 83 percent in 2016.
Those who say they interact daily with someone of a different race or ethnicity outside the workplace rose to 71 percent this year, from 64 percent in last year's survey and 59 percent in 2016. The biggest increases this year were among women, whites, and the 35 to 59 age group, demonstrating that living patterns for these groups are changing the most dramatically to match their work experiences.
This is the third year that Taft has polled New Jerseyans to gain insights into the day-to-day reality of and public attitudes toward diversity in the state. This year's poll was developed in conjunction with the NJBIA and conducted by the Fairleigh Dickinson University Poll. The survey, fielded from May 16 to 21, is based on the responses of 619 randomly selected working adults in New Jersey.
"Taft is proud to present our third annual diversity poll as a way to keep a spotlight on diversity trends in the places where we work and live," said Taft President Ted Deutsch. "The continued increases in workplace tolerance and diverse interactions outside of the workplace are certainly promising trends for the state of diversity in New Jersey."
"Being one of the most diverse states in the nation, it is heartening to see that New Jersey workplaces are creating environments that are sensitive to that diversity," said Michele N. Siekerka, Esq., NJBIA President and CEO. "Employers know the importance of effective policies that make employees comfortable reporting inappropriate behavior. The survey shows these policies are having one of their intended effects."
"It has been a year of considerable change in society," said Krista Jenkins, Director of the Fairleigh Dickinson University Poll and Professor of Political Science. "News about tolerance and diversity is increasingly common, and measuring attitudes and behavior regarding workplace and societal interactions provides benefits to us all. With these results, we now have three years of trend data that illuminate an often-overlooked dimension of workplace dynamics."
A new question posed in this year's survey probed attitudes on whether respondents thought diversity on-the-job improves work results. When asked: "Have you ever worked on a project with others that, in your opinion, had better or improved results than it would otherwise have because members of the team came from diverse backgrounds?"
61 percent of females versus 55 percent of males said yes
68 percent of non-whites versus 53 percent of whites said yes
64 percent of college-educated versus 47 percent of high school educated said yes
61 percent of 18-34 year-olds versus 50 percent of 60+year-olds
66 percent of Democrats versus 43 percent of Republicans said yes
The survey also found that perceived respectfulness in the workplace toward people of different racial and ethnic groups is on the rise in New Jersey. When asked: "Which of the following statements best describes your workplace over the past year?"
68 percent of those surveyed chose the response: "More than ever my co-workers value diverse perspectives and backgrounds and encourage a respectful work environment,"an increasingly positive trend as 58 percent chose this response last year.
Only 4 percent chose: "My co-workers show less value for diverse perspectives and tolerate a more disrespectful environment."
Nearly half of those surveyed reported that they had some form of "training that focused on the value of diversity and cultural awareness" in their current workplace during the past two years. This year, 48 percent responded in the affirmative, compared to 43 percent last year.
Full 2018 poll results are available here. You can also view the results of the 2017 State of Diversity survey and the 2016 poll results.

Click to Tweet: Diversity and respectfulness are on the rise in the Garden State, according to a new @FDUPoll survey from @NJBIA & @TaftComms. Read the full survey results here: taftcommunications.com/diversity
Methodology
This Fairleigh Dickinson University Poll survey was conducted by landline and cellular telephone May 16 to 21, 2018, among a random statewide sample of 619 employed residents. Results have a margin of sampling error of +/- 4.0 points, including the design effect.
About Taft
Taft is a New Jersey-based team of communications strategists celebrating its 35th year of helping people who do good work inspire audiences to action. Clients include philanthropic foundations, Fortune 500 companies, hospitals and universities, and environmental and nonprofit groups. The firm has particularly in-depth experience in the health, life sciences/ biotech, public policy/education, and environmental/ energy sectors. Taft's ClearPoint division provides today's leaders — and tomorrow's — with courses, clinics, and coaching to help them manage the "constant conversation" that defines leadership. Learn more at taftcommunications.com and follow @TaftComms on Twitter or Facebook.com/TaftCommunications.
About NJBIA
The New Jersey Business & Industry Association is the nation's largest statewide employer organization whose members collectively provide more than 1 million jobs. As the voice of business, NJBIA provides practical information, money-saving services and powerful advocacy in Trenton for its member companies in order to build a more prosperous New Jersey.
About Fairleigh Dickinson University Poll
Fairleigh Dickinson University Poll is a full-service survey research center committed to the delivery and analysis of unbiased and methodologically sound data. Topics include, but are not limited to, politics, society, popular culture, consumer and economic trends. FDU Poll is a charter member of the American Association for Public Opinion Research's (AAPOR) Transparency Initiative and adheres to the AAPOR's Professional Ethics and Practices. In 2018, for the second time, the FDU poll received an "A" rating from statistician Nate Silver's FiveThirtyEight blog.
# # #