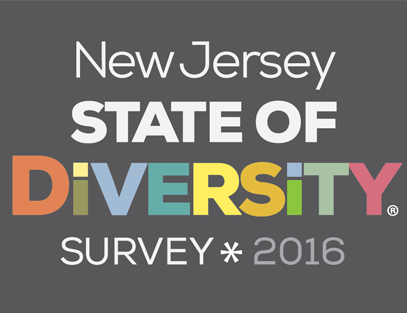 New Taft-Fairleigh Dickinson New Jersey State of Diversity® Survey Examines Diversity At Work and At Home
Nearly 1 in 5 people say Muslims and racial/ethic minorities are at least occasionally subject to offensive remarks in workplace 
83 percent report daily interaction with someone of a different race in their workplace; only 59 percent report the same interactions outside of work 
90 percent of workers think their employers value diversity;
57 percent of for-profit workers have never had diversity training
Lawrenceville, NJ and Madison, NJ (January 14, 2016) – New Jersey is known as a diverse state, but how diverse is the experience of the average New Jersey working adult, at work and at home? How much do employers value diversity? And with heated college campus debates on race relations, and a Presidential campaign replete with provocative rhetoric about immigrants and Muslims, how respectful are language environments at the workplace?
In anticipation of MLK Day 2016, New Jersey-based strategic communications firm Taft Communications today reported its first New Jersey State of Diversity® Survey aimed at gaining insights into these questions. The survey is based on a Jan 4-10 poll of 571 working adults in New Jersey, designed with and conducted by Fairleigh Dickinson University's (FDU) PublicMind.
Lots of interactions, limited training in the workplace
The good news: 90 percent of workers think their employers value diversity and encourage a respectful workplace. The figure is high for public agencies, nonprofits and for-profits alike. Yet 47 percent have never had any form of training that focuses on the value of diversity and cultural awareness. A surprising 57 percent of for-profit employees have never had such training with a much smaller 30 percent of public agency and 32 percent of nonprofit employees reporting that they never have.
"It is encouraging to learn that such a high percentage of NJ workers see their employers as valuing diversity and respect," said Ted Deutsch, president of Taft. "Yet there is a large gap between the employers who have that perception and those who make these sensitive topics a training priority. Training alone is not the answer – recruitment, communications, mentoring and everyday equal treatment are critical – but it is still surprising that more employees haven't experienced formal cultural awareness training."
The Taft-Fairleigh Dickinson New Jersey State of Diversity Survey also looked at how often employed residents encounter diversity in their daily lives. A full 83 percent of respondents report that they interact daily with someone of a different race in their workplace – rising to 94 percent who say they do so at least once per week. The daily figure is highest for public employees (91 percent).
Less diversity outside the workplace; differences by political affiliation
The figure drops off significantly outside the workplace, with only 59 percent of all respondents interacting daily with someone of a different race "outside of their workplace." The respondent's race plays a big part in those numbers, with only 50 percent of whites saying they interact daily outside their workplace with someone of a different race, while the number jumps to 73 percent for non-whites.
The survey shows the number of employed Republicans who interact with someone of a different race outside their workplace at least once every few days is lower (68 percent) than both employed Democrats (81 percent) and employed independents (78 percent).
Party differences appear again when respondents were asked whether interactions with people of diverse backgrounds "is important to me."
"At my workplace"
Democrats: 86 percent strongly agree
Independents: 74 percent strongly agree
Republicans: 63 percent strongly agree
"Away from work in my social interactions"
Democrats: 79 percent strongly agree
Independents: 76 percent strongly agree
Republicans: 61 percent strongly agree
"Overall, the survey results show that New Jersey working adults encounter diversity quite regularly, though their employers have not universally embraced training and there may still be insensitive conversations happening in the workplace," said Dr. Krista Jenkins, director of PublicMind and professor of political science. "Moreover, the gap revealed in how Democrats and Republicans experience and value diversity provides some insights into the challenges that the Republican Party has seen in gaining traction with minority groups."
Insensitive language in the workplace
The survey also explored whether respondents have heard things at work that might be considered offensive to certain groups. Racial/ethnic minorities and Muslims were the two groups where such remarks were observed "very often" or "occasionally" by nearly one in every five workers:
Racial and ethnic minorities: 19 percent
Muslims: 19 percent
Lesbian, gay, bisexual and transgender (LGBT): 16 percent
Women: 13 percent
Other religious groups: 10 percent
Jews: 9 percent
People with disabilities: 9 percent
Hindus: 7 percent
"We suspect that these numbers related to Muslims and racial/ethnic minorities may have increased in light of the highly charged national debate around terrorism and immigration," added Deutsch. "It will be interesting to see how those figures move in the years ahead when those issues are not as much in the headlines."
Of particular note:
Respondents from South Jersey reported higher rates of such incidents occurring "very often"– including 10 percent for racial and ethnic minorities (compared to three percent for Central and five percent for North), eight percent for LGBT (compared to two percent for Central and North) and 12 percent for Muslims (compared to five percent for Central and North).
Twice as many respondents from public agencies reported hearing offensive comments to racial and ethnic minorities (eight percent) compared to for-profits and nonprofits (both four percent.
There were virtually no differences of reporting such incidents by party or ideological affiliation.
A large majority (78 percent) of employers do impose consequences when they learn of offensive comments. Nine percent of all workers saying they had no knowledge of whether or not there would be consequences for offensive speech at their job.
Taft works with companies, nonprofits, universities and foundations on a range of organizational communications issues, including diversity and inclusion, corporate social responsibility and compliance and ethics.
Full results and tables are available on the web at: fdu.edu/publicmind or here.
Radio actualities are available at 201.692.2846
For more information, please contact Rachel Darwin at Taft: [email protected], 609-683-0700, or Dina Schipper at FDU: [email protected], 201.692.7032.
About Taft
Taft is a New Jersey-based strategic communications consulting firm with 30 years of experience creating and implementing targeted campaigns for mission-driven clients across the globe. The Taft team is composed of experienced pros from a range of backgrounds and industries working together to respond to both internal and external communications challenges. Clients include foundations, Fortune 500 companies, environmental and nonprofit groups, and hospitals and universities. The firm has particularly in-depth experience in the health, life sciences/biotech, environmental, and education sectors. Taft has two sister divisions: PharmApprove, the leading strategic, regulatory and scientific communications consultancy to the pharmaceutical and biotech industries in the U.S., Canada and Europe; and ClearPoint, the leadership communications practice providing courses, clinics and coaching to help leaders manage the "constant conversation." Learn more at taftandpartners.com and follow @TaftandPartners or Facebook.com/TaftandPartners.
# # #
Methodology – The Fairleigh Dickinson University PublicMind survey was conducted by landline and cellular telephone January 4-10, 2016 among a random statewide sample of 571 employed residents. Results have a margin of sampling error of +/- 4.7 points, including the design effect.
Methodology
The most recent survey by Fairleigh Dickinson University's PublicMind was conducted by telephone from January 4-10, using a randomly selected sample of 571 employed adults in New Jersey. One can be 95 percent confident that the error attributable to sampling has a range of +/- 4.7 percentage points, including the design effect. The margin of error for subgroups is larger and varies by the size of that subgroup. Survey results are also subject to non-sampling error. This kind of error, which cannot be measured, arises from a number of factors including, but not limited to, non-response (eligible individuals refusing to be interviewed), question wording, the order in which questions are asked, and variations among interviewers.
PublicMind interviews are conducted by Opinion America of Cedar Knolls, NJ, with professionally trained interviewers using a CATI (Computer Assisted Telephone Interviewing) system. Random selection is achieved by computerized random-digit dialing. This technique gives every person with a landline phone number (including those with unlisted numbers) an equal chance of being selected.
Landline households are supplemented with a separate, randomly selected sample of cell-phone respondents interviewed in the same time frame.  The total combined sample is mathematically weighted to match known demographics of gender, age, education, and race.  297 interviews were conducted on landlines and 274 were conducted on cellular telephones.
The sample was purchased from Marketing Systems Group and the research was funded by Fairleigh Dickinson University.