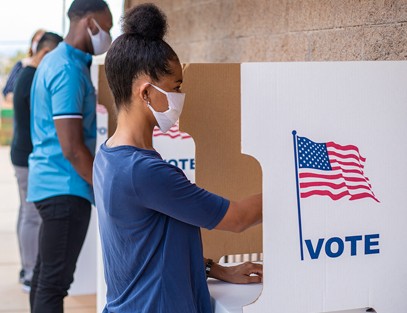 Today might very well be one of those days when leaders of companies or nonprofits feel the need to say something, but have no idea what to say.
We're referring, of course, to the day after our Election Day here in the U.S. We're close to the end of the most tumultuous presidential campaign of our lifetime, against the background of an unprecedented pandemic, ensuing economic hardship, and a year rife with racial tensions.
You might feel the best approach, from an internal or external communications standpoint, is to just keep silent, and let people and events sort themselves out. Or you might feel these are such extraordinary times that everyone who has a platform (which includes the heads of businesses and nonprofits) ought to weigh in — not unlike the situation after the killing of George Floyd and the ensuing raised consciousness about racial justice.
Click to tweet: These three key principles will help companies or nonprofits decide whether to talk about the election and, if so, how to strike the right chords. http://ow.ly/1n2X50Cbo2s via @TaftComms #Election2020 #communications
If you're deciding what to say and whether to say it, you'll want to take into account such factors as risks and strategies — and how to address them — audiences to consider, and what's the call to action you want to convey.
As many had predicted, we don't yet have confirmation of a clear winner. We would all do well to remind each other that states don't officially declare winners until some time after election day — in our home state of New Jersey, the deadline is December 8.
Here are three key principles to guide your decision on whether to communicate about the election and, if so, how to strike the right chords:
Avoid partisanship. Your employees likely sit across the political spectrum and they have the right to do so.
Congratulate your team on voting and being engaged in a peaceful and constructive way. For the first time in recent history, the U.S. faces potential upheaval and even violence in the wake of an election. Responsible leaders discourage lawlessness and encourage peaceful civic expression.
One thing is certain: Somewhere around half the country will be disappointed by the final election result. That's inevitable… and that is democracy. Leaders can acknowledge the necessity of rule of law and encourage their employees to do the same.
Whether the final election numbers are close or not, there will be raw feelings in the days after, as well as anxiety and apprehension. Some people will be happy, some dejected — and others more confused and worried than anything else. The Taft team encourages you to lean into the moment and give voice to the values that should unite all Americans. Democracy and the civility on which it depends require strong voices — those of both individuals and organizations. Thousands of those voices separately offering calm and well-considered words can together be a meaningful force to guide, and heal, the nation.