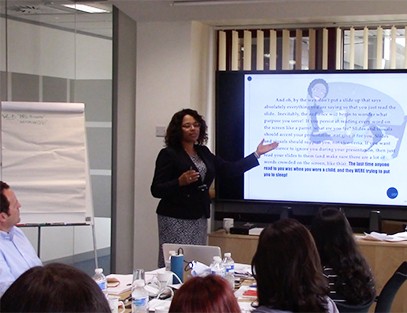 What I do through the Taft ClearPoint practice is pretty straightforward: I help individuals and teams develop their leadership communications skills. I am often asked why leaders and potential leaders need a communications coach. After all, how could they have risen to the tops of their organizations if they weren't already effective communicators?
To answer that question, allow me to step back and share some of my insights.
Over my career, I've been a student of people. Early on, I began to take note of the interactions between colleagues, and between leaders and their team members. As the years moved on and I began training and coaching on media relations and communications skills, I paid great attention to the dynamics around individuals — their co-workers, managers, subordinates; and to teams — the team leader (assigned and perceived), the team members, and the individuals and teams they engage with, including key stakeholders and cross-functional teams.
What I saw excited me, but often frustrated me. Many great ideas went unheard because they were not articulated well, or the messenger simply didn't have the executive presence that led people to willingly investing in his or her ideas. I saw individuals and entire teams disengage because leaders failed to clearly explain their vision or engage empathetically (emotional intelligence). Or, they communicated infrequently or only to deliver a directive or reprimand. I saw meetings that were mismanaged, leaving many great ideas to wither on the vine because people did not feel empowered to speak up, or they struggled to get their point across clearly, concisely and persuasively.
Communications coaching can help. Leaders and potential leaders at all levels can learn or enhance their ability to:
Deliver complex ideas in simple and clear ways
Communicate in a way that gets people on the same page
Understand body language (it speaks volumes!) and use it effectively
Listen to others to really hear what they have to say, not just to respond
Learn the tools that will help them speak and present with confidence, whatever the situation
Harness the power of persuasion to win buy-in, both internally and externally
Communicate to manage and resolve conflict, not escalate it
Write, in all forms (presentations, memos, reports, emails) so that the message is simple, clear and concise.
Communications is an art, but it's backed by scientific research on tone, inflection, body language, and so much more. And, because it is an art, practice is what gets you from good to great. Leaders want and need to grow and strengthen relationships; listen and write effectively; clearly articulate their vision, values and needs; teach, motivate and inspire their teams; and persuade board members, funders and potential clients. Gaining the ability to effectively tap into the "tools" they already have, and some new ones, and to be able to express themselves in a way that is genuine, consistent and impactful, can take a leader from good to great.