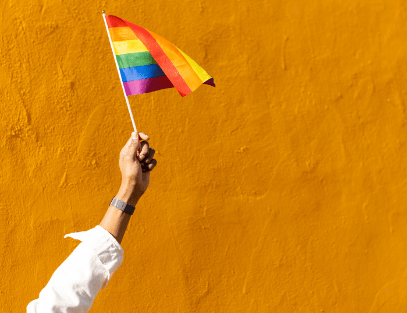 Every year on June 1, cities across the country line their streets with rainbow flags, big brands switch out their generic logos on social media for more colorful, Pride-themed options and luxury and accessible designers alike roll out limited-edition Pride merchandise. By July 1, it's back to business as usual.
In the grand scheme of things, this very public support of the queer community is still quite new — but it doesn't come without controversy.
Here's a brief history lesson on Pride Month:
Though the origins of the celebration go back to the 1950s, it wasn't until 2000 that President Clinton declared June "Gay and Lesbian Pride Month." Then, 11 years later, President Obama switched the official name to something more inclusive — "Lesbian, Gay, Bisexual and Transgender Pride Month." Usually, this is shortened to "Pride Month", and over the years, the LGBT acronym has expanded to include queer, intersex, asexual and other identities (LGBTQ+, LGBTQIA+). The colors of the rainbow flag have also shifted to reflect our everchanging understanding of sexuality and gender — and will undoubtedly continue to change.
Same-sex marriage did not become legal nationwide until 2015. This was no doubt a major milestone, but if you've been keeping an eye on the news, you know that the governor of Florida recently signed a controversial bill into law that forbids instruction on sexual orientation and gender identity in kindergarten through third grade. Lawmakers in more than a dozen states have said they are considering similar legislation. All this to say, as we know well from history, the granting of basic human rights does not erase decades or centuries of systemic bias and hate — nor does it mean those rights will remain in place.
Each identity that falls under the queer umbrella has its own set of struggles — especially for people of color who identify as queer. The trans and nonbinary communities remain largely misunderstood and ostracized — even by others in the queer community. This is all despite the fact trans women of color were at the center of the Stonewall Riots in June 1969, a watershed moment for the modern movement. (For more on this, read about Marsha P. Johnson and Sylvia Rivera.)
Three paragraphs don't give the nuances of this history justice, but the context is important when it comes to understanding the controversy that surrounds corporate involvement during Pride Month — often referred to as "rainbow capitalism" or "rainbow washing."
On the surface, it can be refreshing to see support for the community so widespread. But whether we're a consumer or a CEO, we must ask ourselves a very important question: How does this brand — or how does my company — serve the queer community outside of the month of June? 
The sad reality is, many of these brands will bring out their rainbow logos and products for one month but, behind the scenes, their practices don't measure up. They may donate to lawmakers actively pushing anti-queer legislation or face heat regarding their treatment of queer employees. For these companies, the month is — to put it bluntly — a trend that allows them to make money off affluent queer people. The commodification of the month is especially troubling when you consider the socioeconomic status of many in the community. Pride Month is simply not something many can afford to participate in, which leads to those with the means to spend on merchandise and ticketed events, to travel to those Pride events, to live in areas where Pride is openly celebrated, etc. being overrepresented. It's simply not an accurate reflection of everyone that makes up the community.
So how can brands be more inclusive and supportive when it comes to their queer team members? Consider the following:
How are queer team members supported throughout the year? Are their preferred pronouns respected? Can they include pronouns in email signatures, on name tags, etc.? Do they feel comfortable freely representing their gender, regardless of what it is or if they identify within the binary at all? Do other team members treat them with respect and, if not, how is that addressed?
Is the recruitment process queer-friendly? This would be using gender-neutral language in job descriptions and proactively listing jobs on LGBTQ+ job boards.
What does inclusivity training for all employees look like? How can it be improved/updated?
Offering health insurance is important. Can team members access mental health services, hormone replacement therapy and gender-affirming care?
Are donations going to organizations that are not actively harming the community?
Is the queer community reflected in marketing efforts year-round? Is there an inclusive image bank to draw from? Here are some of Taft's tips for including the community in design.
As our collective understanding of sexuality and gender changes and expands, are there strategies in place to keep up? Is there someone on the team who is responsible for seeing this through, such as a Chief Diversity Officer?
It's important to recognize that the understanding of what it means to authentically support the queer community on a corporate level changes all the time. What really matters is how any missteps are addressed and rectified.
Hannah Bealer composed this blog.