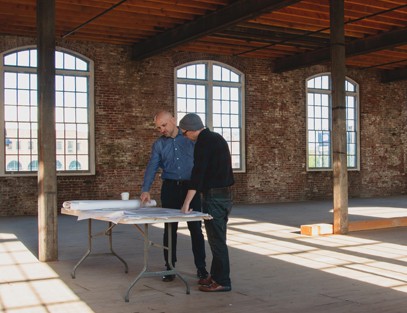 Relocation to state capital signifies next step in firm's 40-year history
(Lawrenceville, NJ)- April 26, 2023 — Taft Communications, a purpose-focused consultancy, announced today that it has signed a lease to move to Trenton's historic Roebling complex located at 35 Clark Street in the Chambersburg neighborhood.
"Relocating to New Jersey's state capital, into a beautiful building with a rich history, is an exciting next step for Taft," said Taft CEO Ted Deutsch. "Our firm's work is centered around purpose and social impact, so it is a natural extension of who we are to be in a place where our team can be part of Trenton's economic revitalization."
The building, also known as "Building 110," is the former carpentry shop for the John A. Roebling Son's Company Trenton wireworks, which began operations in 1848 and spun cables shipped all over the world, including the steel cables used to support the Brooklyn to the Golden Gate Bridges, Otis elevators, aircraft such as the Charles Lindbergh's Spirit of St. Louis, and submarine netting during WWII. The building sat vacant for 25 years before it was repurposed in 2021 to a transit-oriented, modern office building. It sits in a New Jersey Urban Enterprise Zone.
Approximately 20 Taft employees will move into the newly renovated 4,794 square foot office space, which will be developed with a dedicated communal space to foster collaboration essential to Taft's business, and private offices for working independently. Taft is also open to mission-driven organizations interested in co-sharing opportunities within its new space.
To meet the changing needs of today's workforce and Taft's commitment to sustainability, Roebling Building 110 is steps from the River Line Light Rail, just blocks from the Trenton Transit Center, and adjacent to Routes 129 and 1. The firm joins Princeton Hydro, a water resources engineering and natural resources management firm, as the second tenant in the unique state-of-the-art facility.
"Hx2 Development is thrilled to welcome Taft Communications to Building 110," said David Henderson, Principal. "Taft, a purposeful company with a long history of success, is moving to Roebling Center and Trenton because the core attributes of the site and the city, authentic creative sustainable workspace in a diverse community, align perfectly with their core values. Taft is a perfect addition to this diverse, vibrant, and growing community."
Taft opened its first office in Princeton in the 1980s and has been located in Lawrenceville for the past 11 years. Over the past four decades the firm has served more than 450 clients, including many central NJ-based companies and nonprofits. With an anticipated fourth quarter move in date, Taft will celebrate its 40th anniversary with a ribbon cutting at Roebling later this fall.
"We are excited Taft Communications has decided to celebrate its 40th year in business by moving to Trenton," said Trenton Mayor W. Reed Gusciora. "The city is thrilled to see purpose-focused companies like Taft and Princeton Hydro choose the Roebling site and continue to build on Trenton's positive momentum."
"Taft Communications' relocation to Trenton is reflective of how modern firms view historically significant buildings and how well these former industrial buildings can adapt to meet new uses," said George Sowa, CEO of Greater Trenton. "We are very excited to welcome Taft to our capital city and have them and others participate in Trenton's renaissance."
About Taft Communications
Taft is a communications consultancy with 40 years of experience. Through strategic communications and leadership development, Taft guides clients to meaningful expressions of purpose to drive positive impact — for all stakeholders, including customers, employees, shareholders, communities, and the earth and environment. Taft ClearPoint®, the firm's practice in leadership communications, is the go-to source for leaders and aspiring leaders to acquire the skills needed to master today's "constant conversation."
Learn more at taftcommunications.com and follow @TaftComms on LinkedIn, Twitter, and Facebook.