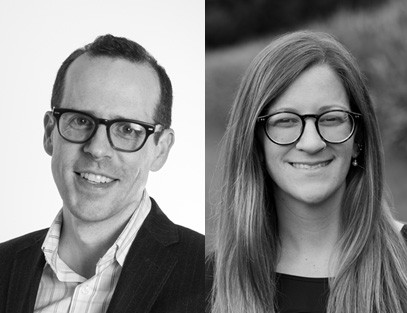 Taft continues to grow with the addition of Aaron Brown as creative director and the promotion of Jesseka Kadylak to senior manager, digital media.
Lawrenceville, NJ (May 6, 2020) – Taft Communications today announced the appointment of Aaron Brown as the firm's creative director and the promotion of Jesseka Kadylak to senior manager, digital media, showing the firm's continued growth in 2020 and reinforcing its mission to offer more services and impactful solutions to its clients.
With 17 years of experience, Brown has helped leading brands find their true voices. In his most recent role as group creative director at PureRED, an advertising agency in Princeton, New Jersey, Brown was the creative lead for major ad campaigns, including Arm & Hammer cat litter that resulted in the most successful product launch in the history of the category. He also developed campaigns for Allegra, First Response, Vitafusion, and Vitamin Shoppe, among others. Over the course of his career, he has created national and international creative campaigns for JetBlue Airways, Vespa, GoDaddy.com and Zappos.com, and wrote the original GoDaddy.com Super Bowl commercial in 2005 that catapulted the brand to number one. At Taft, Brown will lead creative strategy and oversee design functions across the agency.
"Aaron is a great catch for Taft, allowing us to up our game on the creative we deliver for clients," said Ted Deutsch, president, Taft Communications. "He not only brings diverse brand experience to our team, but he shares the firm's passion for purpose-driven communications that make a real impact on stakeholders."
Brown has a bachelor's degree from Northwestern University's Medill School of Journalism and a master's degree in writing for screen and television from the University of Southern California. He has served as a guest lecturer at the Temple University Department of Advertising.
Since joining Taft in 2015, Kadylak has been instrumental in building the digital offerings for the firm and providing innovative creative solutions to clients. In her new role as senior manager of digital media, she will lead the development and implementation of all digital media projects, including social media strategies, digital ad campaigns, creative content and web design. With 15 years of experience in digital media and journalism, Kadylak's strategic thinking and creativity have resulted in enhanced social and digital performance for clients, elevating brand awareness for clients as well as the agency.
"We are excited to see Jesseka promoted to a senior position at Taft," Deutsch said. "Over the past five years she has been a major contributor to a number of key Taft accounts, and continues to be an innovative resource to all things digital for Taft and our clients."
Prior to Taft, Kadylak was a journalist at USA Today, Washingtonian magazine, KIWI magazine and other outlets, covering everything from hard news to entertainment. She has a bachelor's degree from Duquesne University in communications and rhetorical studies and English and a master's in public policy journalism from American University. She also taught multimedia journalism at the University of Delaware.
About Taft Communications
Taft is a communications consultancy with 35+ years of experience. Through consulting, leadership development and authentic communications, Taft guides clients to meaningful expressions of purpose to drive positive impact — for all stakeholders, including their customers, employees, shareholders, their people, their communities, and the earth itself.
Learn more at taftcommunications.com and follow @TaftComms on Twitter, Facebook and LinkedIn.
###