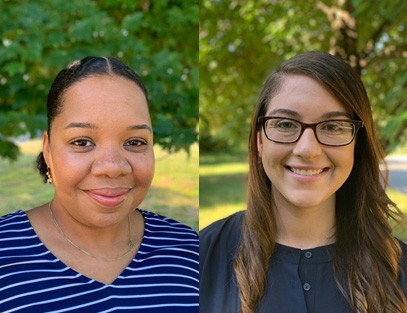 The firm's growth continues, with Blair Hunter-Grant joining as senior communications manager and Jenna DeMato joining as account coordinator.
Lawrenceville, NJ (January 29, 2019) – Taft Communications announced today its newest staff additions, Blair Hunter-Grant as senior communications manager and Jenna DeMato as account coordinator.
Hunter-Grant, of Montclair, NJ, joined Taft with more than 10 years of experience in communications and media production. She most recently specialized in consumer home and lifestyle brands, building multi-faceted PR plans, media strategies and immersive brand experiences. Previously, she worked for the media giant Viacom and FOX News Corp., and then launched and ran an event-planning and production company. She received her Bachelor of Fine Arts in television production from the Tisch School of the Arts at New York University.
"Blair brings an impressive range of skills and comms experience to Taft that makes our strong credentials more robust. We look forward to leveraging her years of expertise as we serve our expanding client base" said Ted Deutsch, president.
Hunter-Grant, who will spend part of her time in Taft's Newark, NJ, office, manages public relations activities, including developing communications strategies, budgets and client relationships on various accounts.
DeMato, a resident of North Brunswick, NJ, joins the firm after earning a bachelor's degree in communication, with a concentration in strategic public communication and public relations, and graduating Summa Cum Laude from Rutgers University. Upon completing an internship with New Jersey's largest philanthropy, the Robert Wood Johnson Foundation, she began her career with Taft as an intern.
"Jenna has proven to be a very valuable contributor to the Taft team," said Deutsch. "Her drive and excellent written communication skills make her an asset on client accounts and we look forward to her expanding upon her education and diverse skillset in this new role."
DeMato provides support for multiple client teams with media relations, event, social/digital media and project management.
About Taft Communications
Taft Communications has 35 years of experience crafting strategic communications that help people and organizations who do good work inspire audiences to action. With particular expertise in the health & life sciences, public policy & education, and energy & environment sectors, Taft helps clients achieve meaningful change in the workplace and the world. The firm's ClearPoint practice provides today's leaders — and tomorrow's — with courses, clinics, and coaching to help them manage the "constant conversation" that defines leadership. Learn more at taftcommunications.com and follow @TaftComms on Twitter, Facebook and LinkedIn.
###