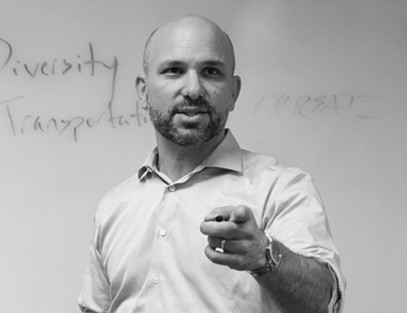 As I was growing up, my father, who grew up in the Depression and went on to success in business, showered us with encouraging cliches. He loved to tell us, "when the going gets tough, the tough get going," or "nothing ventured, nothing gained."
As 2021 comes to a close, it's hard not to see these past two years as among the most challenging of times — even for the stoutest of optimists. A global pandemic. A U.S. political crisis unmatched since the Civil War. Stock market spikes accompanied by rising consumer prices. The great resignation in our workplaces. Racism, antisemitism, and nationalism surging worldwide. Climate change fueling ferocious natural disasters.
In many ways, it's hard to take a bright outlook into this holiday season.
Yet, I am the son of a relentless optimist — and have the irritating habit of seeing the bright side of even the most difficult situations.
More time working remotely during the pandemic has created major challenges for many — especially those with young children — but also created new opportunities to appreciate the sanctuary of home. For my wife and me, we've had extra time with our adult kids who otherwise would have been finishing college, or their first jobs, in other parts of the country.
At Taft, we've stayed focused on communicating about "purpose," and our clients are embracing these existential questions more than ever. They see the value in articulating who they are and what they stand for. They understand that being a good employer, and engaging their people, is not a nice to have, but a must. The focus on diversity that began lightly in the '90s has finally taken deeper root as organizations embrace that they have a responsibility to promote justice, equity, diversity and inclusion.
Now, as we all look out toward 2022, we need to ask ourselves to begin the new year with a renewed sense of purpose. Sure, we make resolutions every year — to drink less, exercise more, reach out better. But given the earth-shaking events of these two years, it feels like we need to go bigger.
Here are a few questions we can all ask ourselves — at work and at home — to inspire more purposeful resolutions:
How can I serve? In the face of so many problems, and the precarity of the pandemic, what can I do differently to have impact? Run for office. Volunteer. Join a board. Be a mentor. Help a neighbor.
How can I grow? There's always room for personal advancement. Do I need more education? A personal reading list? Do I need a new challenge at work? Life is too short to stand still.
How can I help save the planet? That's not hyperbole. You don't have to work for the government or an environmental group, or run a company, to make a difference. Recognize the fact that we are on a slow walk to disaster. Make your next car electric. Convert your house to solar power. Push your employer to be more green. Each of us can take different steps, now, to help sustain the only planet we have.
How can I fight injustice? Unfortunately, there are many versions — racism, economic or health inequities, gerrymandering. The cost of complacency is too high. If we are not already standing up, it's time to get active.
How can I discover new fun? Even in dark times — maybe especially in darkness — we owe ourselves joy. Travel is hard, but not impossible. Take up a new sport or hobby. After two years of getting comfortable with more solitude, it's a good time to force ourselves to safely spend more time with friends.
At Taft, we are asking ourselves these questions, and trying to ensure that we make 2022 a big year for real purpose. At the same time, we are grateful for the chance to work with terrific people and clients who are looking to make the world a better place.
Personally, I am deeply appreciative of our Taft team members, clients, and partners.
In the face of so many challenges, we've all kept doing important work, and somehow keep finding a positive spirit while doing it.
I imagine my father would be proud to see that our company has managed to thrive. And I can still hear him telling me: "keep your chin up." Really, what choice do we have?
Happy holidays, and Happy New Year!
—Ted