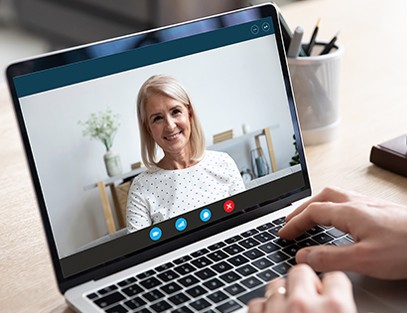 Let's face it: just about everything has gone virtual. Whether it's a doctor's appointment, graduation, or birthday celebration, it's been moved online. The same goes for media interviews. Gone are the days where interviews are done in a studio or in-person. As public relations professionals, we must rethink our approach to ensure our clients are as prepped and ready for their time on the "little screen."
Here are four things to keep in mind as you pitch and prepare your clients for a remote television interview.
1. Be prepared before you send your pitch. Best practices for pitching haven't changed too much — research your pitch contacts, send personalized pitches, follow up — but that doesn't mean you're off the hook. Before you hit send, it's important that you have all of the details in order. Virtual interviews can be scheduled quickly and can take place only a couple of days after your outreach. Know who will be speaking on camera and confirm his/her availability before you send the pitch so that, when it comes time to schedule the interview, you can respond promptly with the interviewee's availability. Producers are busy, so if you don't have the details in order, you run the risk of missing the opportunity to get your client on air.
Click to tweet: As you pitch and prepare your clients for a remote television interview, keep these four things in mind to ensure it's a success. http://ow.ly/a3yf50AcrJ0 via @taftcomms #mediarelations #remotework
2. Ask questions. This is new territory for most of us, so don't be afraid to ask the reporter questions. Know what platform they'll be using for the interview, confirm whether or not your client has access to that platform, and make yourself available to join the interview as counsel and for technical support.
3. The live interview is not a test run. Practice doesn't always make perfect, but it does make for a better experience. Plan to hold a practice session or mock interview as early as possible to correct any issues that may arise. Use this time to give your client a chance to get comfortable on video and rehearse responses.
Practice sessions are also the perfect time to test out the technology. Is your client's camera too low? Is the audio muffled? Don't wait until the interview with the reporter to find out if your client looks and sounds good.
Quick tip: The camera should be at eye-level, audio should be crisp and clear, and the space should be free of clutter. Find more tips on how to be "camera ready" from Taft Senior Director Jon Shure's recent blog, "Being Your Best on the Little Screen."
4. Made it through the interview? Great. But your job isn't over yet. As you would with any other interview, be sure to follow up to thank the reporter for his/her time and to provide additional support. They may ask for more visuals to accompany the piece or a logo to show on air. If that's the case, be sure to gather the appropriate assets and share with the reporter in a timely fashion.
Even as people start to transition back to the office, many newsrooms will continue with virtual interviews, and this guidance will help ensure the interview is a success so you can sit back, relax, and watch the piece air.