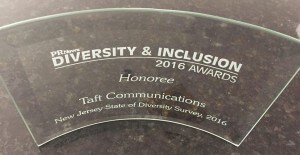 LAWRENCEVILLE, NJ (December 13, 2016) — Taft Communications' 2016 opinion survey and campaign exploring New Jersey workers' attitudes toward people from different backgrounds netted the firm a Diversity & Inclusion Award from PRNews.
The awards, given to top leaders and campaigns focused on making diversity matter in the workplace, were presented on December 6 at the National Press Club in Washington, D.C.
Taft partnered with Fairleigh Dickinson University's PublicMind Poll to launch the New Jersey State of Diversity Survey in January 2016 as a way to better understand the role of diversity in the lives of New Jersey workers – in and out of the workplace. The next round of Taft-FDU polling on diversity issues will be released in February 2017.
Among the poll's most interesting findings are that New Jerseyans are more likely to encounter people of other races on a daily basis in the workplace than they are elsewhere. And, the percentage of non-whites saying they interact daily outside their workplace with someone of a different race was significantly higher than it was for whites.
"We believe it's important in a state as diverse as New Jersey to find out where we've made progress and where there is more work to do," said Ted Deutsch, president of Taft. "We are encouraged that the survey generated significant interest among the media and business community and grateful for this national recognition by PR News."
Taft established the State of Diversity survey as a long-term tracking study to monitor how New Jersey workers view and experience diversity in their lives, and in other ways measure how much diversity is embraced in the state.
"We are very curious to see in our 2017 follow-up how attitudes were impacted by the divisive national election," Deutsch added.
As communications strategists, Taft helps organizations and leaders convey ideas, accomplish missions, and achieve success to inspire meaningful change in the workplace and the world. Founded more than 30 years ago, the firm has a strong commitment to diversity in its culture and client work. Early this year, Taft opened an office in downtown Newark to engage more fully in the multiplicity of opportunities there, including working with Rutgers University-Newark, which is among the nation's most diverse university communities.
PRNews is published weekly as a strategic resource and training tool for the public relations industry.
About Taft
Taft is a New Jersey-based strategic communications firm with 30 years of experience creating and implementing targeted communications solutions for mission-driven clients across the globe. The Taft team is composed of experienced professionals from diverse backgrounds and industries working together to respond to both internal and external business challenges. Clients include foundations, Fortune 500 companies, hospitals and universities, and environmental and nonprofit groups. The firm has particularly in-depth experience in the health, life sciences/biotech, education, and environmental and energy sectors. Taft's sister division, ClearPoint, the leadership communications practice provides courses, clinics and coaching to help leaders manage the "constant conversation" that defines leadership today. Learn more at taftcommunications.com and follow @TaftComms on twitter or Facebook.com/TaftCommunications