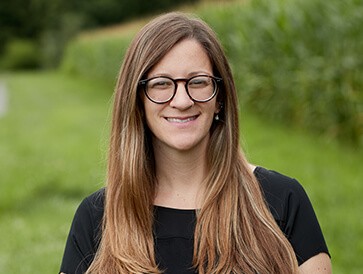 Journalist and multimedia professor to spearhead further expansion into digital marketing for top strategic communications firm
LAWRENCEVILLE, NJ (March 8, 2016) – Taft Communications ("Taft") announced today that Jesseka Kadylak has been named a new social media administrator for the firm. This new role comes on the heels of several expansions for the strategic communications firm, which was recently named one of the top five firms in the state of New Jersey by NJBIZ.
"Taft has long been active in the social media space," said Taft president, Ted Deutsch. "More and more people are getting their news socially, on their smartphones. Our clients are savvy enough to know that it benefits them to extend their communications in that space, and we are confident that Jesseka will play a valuable role in devising and executing strategies for them."
Pew Research Center finds that 65 percent of adults now use social networking sites, up from 7 percent in 2005. Ninety percent of young adults use social media, and 35 percent of those 65 and older (an 11 percent increase since 2005).1 People in the U.S., on average, check their social media accounts 17 times a day,2 and half of web-using adults report getting news from Facebook within the past week.3 At the same time, Pew's State of the News Media shows that print circulation and readership continues to fall.4 The rate of job loss at traditional outlets has been accelerating, with just 40 percent of the industry remaining from its peak in 2006.5
Kadylak comes to Taft after nearly a decade of experience working in digital media, with a focus on social media management, SEO best practices, and community building. Her smart strategies have resulted in increased engagement, brand awareness and impressions—with social media campaigns that have resulted in up to a 400 percent increase in engagement and as many as 10 million impressions for one event.
Kadylak has a master's in Public Policy Print Journalism from American University's School of Communication. Her past experience includes USA Today, Washingtonion.com, Cleveland.com, Pittsburgh City Paper, Patch.com (Philadelphia & D.C. regions), hibu, and most-recently KIWI magazine. She also currently teaches Multimedia Journalism at the University of Delaware.
"After years of studying, teaching, and applying tips and tricks on how to boost following and engagement over various social media channels, I'm truly excited to bring my skills to a variety of clients for Taft," Kadylak said. "I know that some clients are already actively involved with social media, and just need some guidance in how to optimize their output. Meanwhile, others are just starting to wade into the social media waters for the first time. In either case, I am eager to lead Taft's efforts to help them in this arena."
Since joining Taft, Kadylak has wasted no time helping clients to design engaging infographics, boost and sponsor key posts, schedule tweets for optimal timing, interact with key influencers, and generally grow their following and klout scores. 
About Taft Communications
Taft is a New Jersey-based strategic communications consulting firm with 30 years of experience creating and implementing targeted campaigns for mission-driven clients across the globe. The Taft team is composed of experienced pros from a range of backgrounds and industries working together to respond to both internal and external communications challenges. Clients include foundations, Fortune 500 companies, environmental and nonprofit groups, and hospitals and universities. The firm has particularly in-depth experience in the health, life sciences/biotech, environmental, and education sectors. Taft has two sister divisions: PharmApprove, the leading strategic, regulatory and scientific communications consultancy to the pharmaceutical and biotech industries in the U.S., Canada and Europe; and ClearPoint, the leadership communications practice providing courses, clinics and coaching to help leaders manage the "constant conversation." Learn more at taftandpartners.com and follow @TaftandPartners or Facebook.com/TaftandPartners.
# # #
1 Source: http://www.pewinternet.org/2015/10/08/social-networking-usage-2005-2015/
2 Source: http://www.digitaltrends.com/mobile/informate-report-social-media-smartphone-use/#ixzz3wabbE39o
3 Source: http://www.journalism.org/2015/04/29/state-of-the-news-media-2015/
4 Source: http://www.journalism.org/2015/04/29/newspapers-fact-sheet/
5 Source: http://www.poynter.org/2015/newspaper-industry-lost-3800-full-time-editorial-professionals-in-2014/360633/