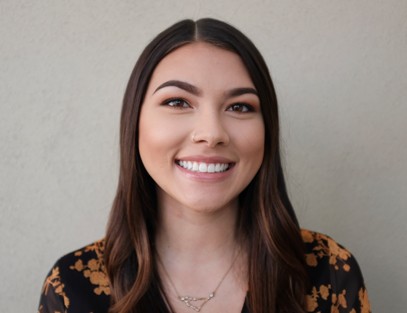 Many public relations professionals give themselves the title of "storyteller." With each new project, there's a fresh story to tell, and being an effective storyteller can help better connect clients with their audience.
I love a good story, and no one told a better story than my great-grandma. She lived 99 full, healthy, incredible years, and oh, did she have a story to tell.
She'd talk to me about her life in California, her time in school and her family. I was always impressed with her memory and the details she shared that seemed insignificant to me but clearly meant a lot to her.
She was a shy girl growing up and didn't consider herself athletic. However, for some reason, she often told me the story of playing volleyball with her friends. To her surprise, she had discovered a secret talent of serving a volleyball. I can't attest to whether she was good at any other aspects of volleyball because she spoke solely about how strong (emphasis on strong) her volleyball serve was. Whenever the kids at school played the game, they sought her out to start the rounds with her mean serve. I couldn't help but laugh when she'd tell me this story as I pictured my, under 5-foot tall, fragile great-grandmother serving a volleyball with the power of Kerri Walsh Jennings.
Every time I'd visit her, she'd always share an anecdote with me. Even if it was one I'd heard many times, she'd tell it like it was the first time, and I'd listen as if I'd never heard it before. I'd sit on the couch beside her with open ears as she painted pictures with her words. She may not have been able to remember whether she ate dinner that day, but she could tell you the details of something that happened to her in the 1930s without missing a beat.
When she was around my age, she spent time in the Japanese internment camps of World War II in California. As if it wasn't bad enough to be held in custody, she was also pregnant with my grandmother during her time there. Sad, thought-provoking, and surprisingly hopeful are a few words I'd use to describe the stories she'd tell me about life in the facilities. It's admirable that she was able to turn a difficult, heavy time in her life into a story of resilience and faith.
All seven children,13 grandchildren, 22 great-grandchildren and three great-great-grandchildren will never forget her comforting presence, delicious cooking, and vivid storytelling.
I wish I could say my grandmother's superior storytelling skills led me to a career in public relations, but this isn't that kind of story. I chose public relations on a whim as my college major and was hooked after only taking the intro course. But I have found a way to channel my grandmother in my work.
At Taft, I'm able to tell clients' stories every day and hear the diverse background stories of my colleagues. Listening to and telling stories that are compelling, authentic and written for the greater good inspires me and makes me excited about my work.