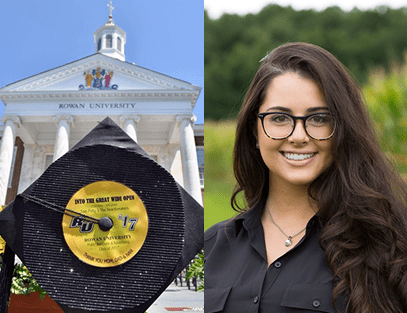 There are three things you should know about me:
1. I'm a recent college grad with a dual degree in public relations and advertising.
2. I have a clipboard, a planner and a set of 24-colored pens with me at all times.
3. I love Tom Petty and my graduation cap made it into his music video (check it out at 1:20).
If you're a college student preparing to enter the "real" world, I know what you're thinking: What do I want to do? Will I find a job after graduation? What work environment will I thrive in? Did I update my color-coded spreadsheet with that job I applied for yesterday?
Maybe that last one was just me. But have no fear — I was in your shoes two years ago. If you make the most of your college experience and take advantage of every opportunity that comes your way, you'll have no problem finding success and happiness in your work. I was lucky to find a passion for communications early in my college career, and even luckier to land at a company with outstanding people, values and clients where I fit right in.
Here are three things my college experience at Rowan University and my internships prepared me for in the working world…
1. Project management is the key to success.
For me, working in an agency setting was an easy transition coming right out of school. Managing six or seven classes during a semester prepared me to work on multiple accounts since I was already used to juggling a busy schedule. My classes and that workload taught me the importance of setting project goals, creating timelines and managing teams.
2. Writing skills are invaluable in PR.
As a public relations major, my classes had a heavy emphasis on writing. From press releases and ad copy to video scripts and event plans, I learned the ins-and-outs of PR writing and felt confident in my skills when I started at Taft. I even keep my PR Writer's Toolkit from my freshman year at my desk.
3. Thinking creatively sparks inspiration ideas.
If my college experience had a tagline, it would be "learn to think outside the box." If you can, try to incorporate real-life people and scenarios in your coursework — then do something that hasn't been done before. At Taft, I am always thinking of creative ways to provide our clients with imaginative and inspired work, which my college experience definitely prepared me for.
…And these three things I couldn't have learned anywhere else but on the job:
1. How to keep up in a fast-paced work environment
I love being busy. I always knew I could never have a job that didn't keep me on my toes. At Taft, my calendar never looks the same two days in a row. The fast-paced work environment here is not something college prepared me for, but it is something I learned to navigate with the help of a great team.
2. How to foster strong client relations
I've learned so much from the Taft team about the importance of working one-on-one with clients to grow strong relationships. Being able to effectively communicate with a client allows you to better manage deliverables and expectations. It feels great to see your ideas come to life on a client's social media page or in a magazine, and it feels even better to hear feedback from a happy client.
3. Teamwork is the best work
Whether you love them or hate them, you'll never escape group projects. In communications, collaboration is key. If someone isn't pulling their weight on a project during class you get a bad grade, but in the real world you can end up with an uphappy client and a poor product. Working at Taft has taught me the importance of having a strong, creative and capable team of people who go above and beyond to get the job done.
The transition from being a full-time student to a full-time professional can be tricky. But take it from Petty: Don't back down!