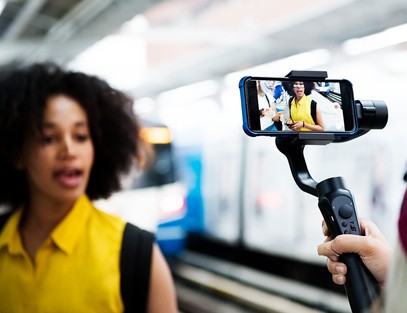 The media landscape is ever-changing, and it will continue to change because the way that we communicate, learn, share information, engage and socialize is always evolving. We live in a connected world, and everyone is constantly plugged in. So, what does this mean for PR and marketing? It means that there are more ways than ever before to get your message out.
Today's PR pros are not just thinking about media placements, they are thinking about all of the ways to put out content and how to make it more visual and experiential to breathe life into it. Influencer marketing can be an effective way to do that.
Click to tweet: By partnering with the right influencer, brands and organizations can reach their target audience, build trust, increase awareness and drive engagement. http://ow.ly/eZEd50zgqcJ @taftcomms #influencermarketing #PR
What exactly is an influencer?
In the simplest terms, an influencer is someone with a dedicated and engaged group of social media followers who creates original and engaging content to influence their audience. Influencer marketing is the process of promoting and selling products, services or an idea through individuals capable of driving action from their audiences. Celebrity endorsements were the original form of influencer marketing, so this isn't a new concept. Social media has created a platform for practically anyone, celebrity or not, to endorse brands. By partnering with the right influencer, brands can reach their target audience, build trust, increase awareness and drive engagement.
Influencer programs are among the fastest-growing marketing channels across industries and Business Insider estimates that they will be worth as much as $15 billion by 2022. There are now more than 500,000 active influencers on Instagram alone according to InfluencerDB. Whether it's a celebrity with millions of followers, a micro-influencer with 5,000-25,000 followers or a nano-influencer with an even smaller but dedicated niche audience, there is no shortage of options when it comes to finding an influencer that perfectly aligns with a brand or organization.
Why not just buy an ad?
Brands want to put a real face to their product or cause, and influencers provide that as well as context. Influencers can offer an experience that resonates with everyday consumers. Some brands can capture that with a TV or digital ad, but they are spending millions of dollars, and it still might not translate in the same way. A simple social post from an influencer can cost significantly less, reach a very targeted audience and have just as big of an impact, if not more.
Can influencers raise awareness for social causes?
Although most people associate influencer marketing with consumer brands, influencers can also be quite effective in helping to raise awareness and move audiences to action for important causes. A social impact influencer campaign isn't necessarily about reaching a broad audience, it's about reaching and engaging with individuals. Organizations promoting causes should target change makers who are making a real impact, which could be anyone from a policy maker to a thought leader. Alignment with the organization's objectives, a well-matched audience, professional expertise or a personal connection to the cause are important factors to consider when embarking on a partnership with a social impact influencer.
A successful influencer marketing campaign requires a solid strategy, so if you're thinking about working with an influencer to help promote a brand or raise awareness for a cause, start with the "Three Rs" and you can't go wrong.
Relevance – Is the influencer's content relevant to your industry and target audience?
Reach – Is the influencer's reach enough to drive the type of engagement that you're looking for?
Resonate – Is the influencer's content relatable, and will it prompt people to respond positively?
How can brands engage influencers for a campaign?
The simplest way to find and secure an influencer for a project is to use an influencer marketing platform like TapInfluence, Famebit or Klear, which are designed to help brands and influencers connect and collaborate. These platforms provide discovery tools and searchable databases  that brands and organizations can use to find the right influencers for a project. These databases influencer marketing platforms act as the liaison between the brand and the influencer when it comes to contracts, deliverables and payment and can also intervene if any issues arise.
If you don't have the budget to invest in an influencer marketing platform you can take a grassroots approach. You can find influencers via Google by searching for bloggers or vloggers using a specific topic or location, or by searching hashtags on social media platforms like Instagram to see which influencers are already posting about topics related to your brand. However, this approach requires a lot of time for research and vetting and is not recommended if you're trying to secure a lot of influencers for a big campaign. Companies and organizations will also have to consult their legal team for contract negotiations and handle payments directly.
Influencer marketing might not be the right tactic for every brand, product or cause but it can be an effective approach that yields successful results if it's the right fit.