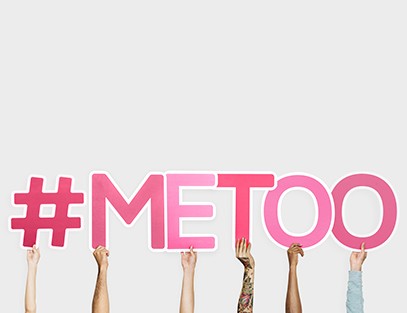 How has the #MeToo movement affected sexual harassment in New Jersey? NJBiz, New Jersey 101.5 and NJ.com shared the findings of a recent Fairleigh Dickinson University Poll commissioned by Taft Communications and the New Jersey Business & Industry Association that shows the movement hasn't yet had a direct impact on New Jersey workplaces.
The poll found "more than one third of women in the Garden State say that they have been victims of sexual harassment in their workplaces at some point in their careers," Jayne O'Connor, Taft's vice president told New Jersey 101.5.
She went on to say in the article that "despite all of the recent publicity surrounding the #MeToo movement, nearly two-thirds of the women say that the frequency of sexual harassment has not changed."
Even though the #MeToo movement brought increased visibility to sexual harassment in New Jersey, Krista Jenkins, director of the Fairleigh Dickinson University Poll and professor of Political Science said in an NJ.com article, "While it seems the movement has not yet had a direct impact in our state, it will be important to continue to track employee perceptions to see if companies' focus on sexual harassment can bring further improvement."
While 63 percent of respondents said sexual harassment in their workplace over the past year has stayed the same, NJBiz reported that the poll also found that 36 percent of nonwhites and 24 percent of millennials (those aged 18 to 34 years old) believe workplace sexual harassment has been less frequent over the past year.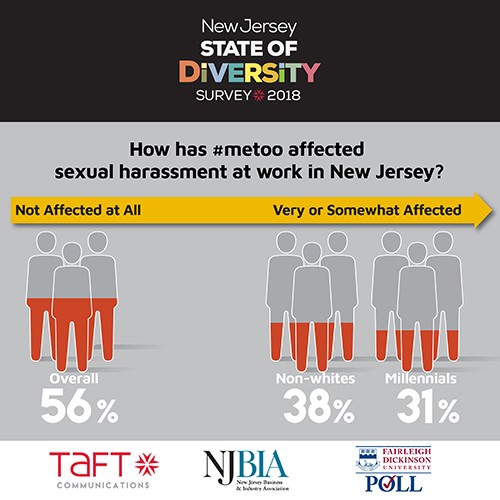 This poll comes at a time when the New Jersey Senate approves a new legislative anti-harassment policy — the first of the #MeToo era — that would require training every two years.
"We are encouraged that younger women and non-whites reported that sexual harassment at work has become less frequent," O'Connor said. "It will be important to poll again next year and see whether the heightened awareness about sexual harassment has a broader impact on New Jersey employees and workplaces."
See all the findings from the poll, which was released on September 20, 2018.