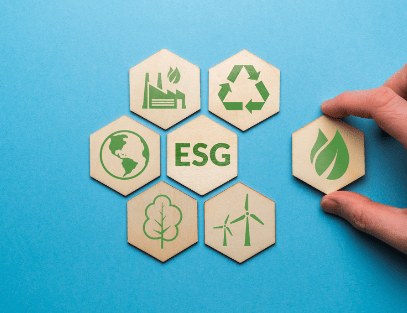 Environmental, social, and governance (ESG) criteria are ways to create and measure sustainability and demonstrate ethical impact. These criteria are becoming increasingly important for firms as more and more employees, consumers, and investors seek to support organizations that maintain purposeful commitments to society and the planet. Impactful commitments in each of these areas require a willingness to lead by prioritizing purpose and making a strong set of values central to a firm's motivation.
How ESG shows up in business:
Environmental (E) – Environmental criteria include areas related to a company's sustainability initiatives – their energy and water use, how they conserve resources, and their impact on climate.
Social (S) – Social criteria include human impact activities such as how the business contributes to local communities and to its own employees, which might include donations and volunteer work, wages, workplace policies, training and education programs, and social relevancy of a business's mission statement.
Governance (G) – Governance criteria include how transparent the company is about its investors, partners, board governance, and its cooperation with other companies and governments.
When it comes to our environment, our natural resources are challenged and impacts on our environment are changing climates across the world. Without corrective actions and sustainability efforts, not only are our businesses in jeopardy, but so is our planet and all who dwell here.
In March, the U.S. Securities and Exchange Commission (SEC) released new landmark disclosure rules that would require firms to outline how their leadership is managing climate risks, how climate risk impacts their strategy and financial outlook, and to report on the level of greenhouse gases their operations are responsible for, among other requirements. This signals an important step toward shifting the way businesses prioritize and disclose climate impact.
These efforts call upon organizations to look beyond short-term profits and consider their global impact today and for future generations to come. Transitioning to renewable energy and reducing water consumption and waste products may come at an up-front cost, but these conservation efforts can lend to longer-term profits and a better environment. Sustainability challenges are complex and systemic and can't be tackled with a business-as-usual approach – a sustainable business cannot be built on unsustainable practices.
Sustainability also has social implications. Social criteria can include how the company values and compensates its employees, the ongoing learning opportunities it offers, its policies around diversity, equity, and inclusion, and the stances it takes publicly on human rights issues through partnerships, statements, and charitable causes. Consumers care that the products and services they purchase make a difference in the world and that the businesses they support are supporting their employees and communities. Leading with an interest in what is "best for communities" rather than what is "best for the business" is an important principle for rooting impact in corporate purpose. Building trust and connecting to the shared value of its consumers can ensure the company can do good socially while doing well financially.
From a governance standpoint, investors are increasingly interested in aligning their financial portfolios with their own values, pushing asset managers to incorporate ESG metrics into their investment decisions. There is increasing evidence that ESG metrics correlate with financial returns – recent data from NYU shows that 58% of related corporate studies conducted demonstrated a positive relationship between ESG and financial performance.
Doing business the "right way" doesn't just feel good, it is good for the health and longevity of the business. Firms invested in ESG initiatives may choose alternatives to traditional governance structures, like being employee-owned (through employee stock or share ownership plans) or member-owned (through cooperatives), as these structures can yield lower employee turnover rates and more engaged and innovative staff. A firm can also become a B Corp – a for-profit company that is certified by the nonprofit B Lab to meet high standards of social and environmental performance, accountability, and transparency – or a benefit corporation – a company with an established purpose of creating "general public benefit" that is legally required to consider the impact of their decisions, not only on their shareholders but on society and the environment as well. These designations help solidify ESG commitments in the eyes of investors, employees, customers, and the public.
Communicating ESG initiatives is a key driver of success. Here are a few tips to consider when striving to communicate the impact of your ESG commitments effectively:
Be transparent about where your company currently stands, where it hopes to go, and how it plans to get there. This transparency and communicating it effectively and often is critical to building trust with all stakeholders and maintaining a strong, reliable, purposeful brand reputation.
Smart investments in marketing and advertising campaigns can raise the awareness of ESG efforts by helping consumers understand why these commitments matter, and how they enhance products and services. Marketing efforts can in turn heavily influence consumer purchasing trends and increase your market share.
Effective leadership in this realm requires having the courage to act on your values and bring your purpose to life. Conducting a thorough assessment of your ESG commitments and communications strategy can put your company on the right path to delivering purposeful impact within your organization, to your stakeholders and your community, and the rest of the world.
As a firm powered by purpose, Taft understands the importance of ensuring that an organization's values work to create change and drive it forward, and that effectively communicating value- and purpose-driven actions, both internally and externally, is critical to an organization's overall success and sustainability.
"Without a sense of purpose, no company, either public or private, can achieve its full potential. It will ultimately lose the license to operate from key stakeholders. It will succumb to short-term pressures to distribute earnings, and, in the process, sacrifice investments in employee development, innovation, and capital expenditures that are necessary for long-term growth."
— Larry Fink, CEO of BlackRock (2018)
Interested in learning more about working with Taft? Contact us below.