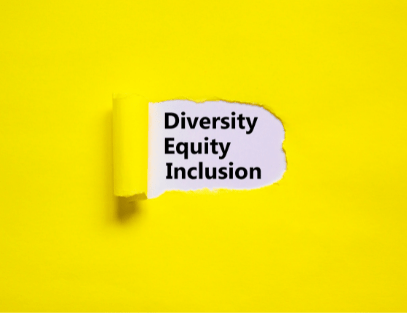 How leadership and employees can create an impactful culture of Diversity, Equity and Inclusion (DEI) in the workplace
We know that diversity, equity, and inclusion (DEI) are essential to creating workplaces that are safe, productive, and attractive to employees. Yet building a healthy and sustainable DEI culture entails much more than setting hiring goals and making public statements, as evidenced in Taft Communications' recent webinar, "DEI in the workplace: A national perspective."
The webinar panel, moderated by Taft's Senior Director & DEI Lead, Sheila Cort, featured three DEI leaders from Sanofi, NRG and Withum who collectively shared survey findings, knowledge and insights to inspire DEI leaders, ambassadors and allies to think more critically about their workplace approaches.
Watch the webinar recording below:
Taft's national State of Diversity® Survey, to be released on March 10, found that employees are much more likely to interact with people of other races and ethnicities at work – 68% of respondents said such interactions happen daily at work, while only 50% noted that these interactions happen outside of the workplace. Panelists noted the incredible value that the workplace offers in engaging and connecting with people across different diverse sectors. They acknowledged the need for intentionality in making those connections and the challenge of overcoming "safety bias" – in this case, the need to keep things status quo in fear of losing something.
This also means that leaders need to champion the differences they want to see in the workplace, as most survey respondents indicated that it's their employer's responsibility to champion diversity. About 56% said employers should increase commitments to diverse hiring practices, and 59% said they should build a more inclusive workplace culture. However, only 2 in 5 say their employer should make public statements, give donations, or publish op-eds on racial equality in the workplace.
Actions speak louder
Rather than public statements that may be considered posturing, it's important that leadership take real action to demonstrate awareness and acknowledgment of the changes needed within their organizations and in the world at large.
"We know the work that we need to do to make a systemic change happen in the world that we live in is to ensure that we are also connected and transforming the diverse communities that we have," said Subarna Malakar, Head of Diversity, Equity & Inclusion, Sanofi. "Treat diversity, equity, and inclusion as a business strategy, versus just a siloed HR strategy."
"Don't talk about it, be about it," said Cecilia Nelson, Director, People Development & Belonging, NRG Energy. "I think that's where public op-eds tend to be lost on the employee population, because they're asking, 'Well, what are we doing in-house? How are we taking care of our own house?'"
Leaders should lean in, be active, and listen to employees to identify what needs to be improved and foster DEI within their organizations. It's important to ensure statements are internally put into action to drive effective change.
"We will only know if our actions are successful if the employees are saying so," Subarna added. "You need to be transparent about your data, not only with the leadership team, but with your employee base, because they want to see progress."
Who plays a role?
Though an overwhelming majority views diversity as important in the workplace, Taft's survey found some divisions across gender, race, and political affiliation regarding the degree of importance. These divides are further evidence that there is work to be done in how we ensure that our workplaces are as inclusive and equitable as possible.
"When we talk about diversity, everybody has a role to play," Subarna said. "You have to listen to every voice."
"It's important to have candid conversations across differences and really dig deep below the surface to understand what lenses show up," said Bill Bradshaw, Director of Inclusion and Diversity, Withum. "You have to connect to where (people) are."
DEI impacts individuals differently, and it's important to understand what these divides and differences mean. Employees and leadership must be open to listening to every voice and every counter voice, and be vulnerable to learning and engaging in conversations to drive meaningful change.
Dealing with discrimination
When it comes to discrimination in the workplace, 23% of respondents to Taft's survey said they've been discriminated against. This is a stat that may make you query as to whether the glass is half full or half empty. Half full, in that the number may be lower than you expected, or half empty, in that any number being too high. More than likely, acts of discrimination may go unreported. Many employees may feel they can't be vocal about their experiences as they may fear judgment and repercussions as a result of reporting, or they simply may not bother, a symptom of the disengaged employee who may already have one foot out the door.
"People will report when they feel comfortable to report, with a mechanism that gives them the safety and anonymity to report," Cecilia said. "Psychological safety comes first."
"I think some folks are afraid to report because their job may be in jeopardy if they say something," Bill said. "The really important thing is that they need to have a voice, and maybe those numbers will start to shift."
What do successful DEI practices look like?
To drive systemic change, DEI experts must be given seats at the table with leadership to successfully steward this work.
"Success to me looks like consistency," Cecilia said. "Consistently having these conversations, or variations of them, as they're not going to be the same every year."
Success also means engaging all of your employees in these initiatives, listening to all perspectives and experiences, and being receptive to feedback. It means holding everyone accountable for the work and progress that the organization is committed to making. And it means being receptive to change.
As companies deepen their commitments to DEI work, some best practices to keep in mind:
"Lean in with your people. Check in on your people from a mental health perspective, from a physical perspective, from a work/life integration perspective. That's how you discover how folks really are, and what you can do to support them," Bill said.
"Have committed leaders who are willing to hear the employee voice and empower employees to share their voices by utilizing employee resources and elevating grassroots movements to increase engagement," Subarna said.
"Be vulnerable. Give of yourself. If you're moving with people, you are giving people a piece of yourself to move this forward," Cecilia said.
Throughout the webinar, Taft polled the audience to gauge what attendees felt was the biggest DEI challenge in their workplace – 65% identified the need for more education of the workforce around DEI. It's evident that the workforce is yearning to become more educated and active, but also that DEI is not a box to be checked and moved on from. The process of fostering and nurturing an authentic culture of diversity, equity, and inclusion in the workplace is a journey that requires consistency to be successful.
Interested in learning more about working with Taft? Contact us below.