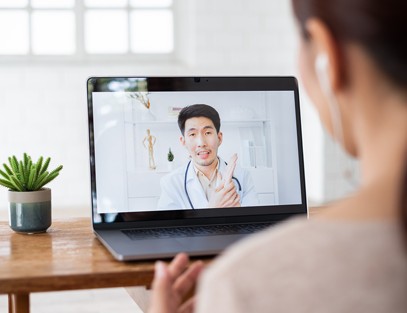 One of the biggest pandemic stories in healthcare today — aside from COVID-19 itself — is the quick adoption of telemedicine by patients during the pandemic. According to a recent survey by Doctors.com, half of consumers used telemedicine and an overwhelming 83% said they are likely to use telemedicine after the pandemic. Compare this to Doximity's estimate that fewer than 10% of doctor appointments were virtual prior to COVID-19 and the magnitude of this change is evident.
Clearly, with the pandemic as the driver, healthcare, like other major industries, is getting closer to a consumer-centered model where people can shop more easily and conveniently for care.
As the growth of telehealth encourages virtual physician visits, is it time to rethink how to market healthcare?
Are the old days of patients having "my doctor" or "my hospital" gone — replaced by decisions based on where a patient can book an appointment online and consult with a physician without leaving home? Will that mean patients will abandon familiarity and "bedside manner" when choosing health care providers? The answer appears to be no.
Click to tweet: How can healthcare communicators connect with prospective patients in a virtual setting? @Taftcomms shares tips: http://ow.ly/HIiS50EoOp9 #healthcarecomms #patientexperience
Deloitte's "2020 Survey of U.S. Health Care Consumers" mirrored the findings of its 2016 study and found the top factors for "an ideal health care experience remain: Doctors who listen to/care about them, doctors who don't rush, and clear communication." So, as healthcare providers move to virtual visits, they still need to offer the personal attributes of in-person visits. That means healthcare providers must communicate in ways that strike the right balance between promoting innovative telehealth technologies and the personal experience.
There is even more incentive today for marketers to get it right. According to one estimate, 25 million people are more likely to switch providers now than pre-COVID, with only about 50% of patients feeling loyal to their regular providers.
The many benefits of telehealth include making healthcare more accessible to patients and giving them greater choice when selecting providers. At the same time, however, this increases the competition for those patients. Patients might initially select a provider based on convenience, but their experience with that provider will still determine whether they stay or switch. Patients' loyalty and providers' compassion and trustworthiness will still matter. So, interestingly, in an environment where patients and providers no longer meet in person, human connections become even more important. Providers must continue to earn loyalty through exceptional service — clinically and emotionally.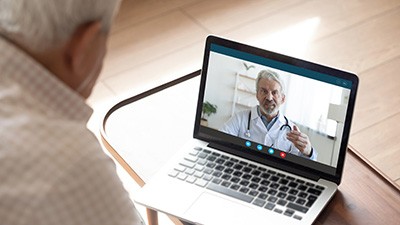 The pandemic is providing opportunity for healthcare communicators to build their brand reputations, convey their experience and knowledge, and connect with patients. As consumers in general look to brands to go beyond profit and focus on purpose, healthcare institutions are well positioned. They can compellingly show their benefit for the greater good through work during the pandemic that enables them to strengthen the bond of trust with patients. At this moment, 52% of U.S. adults prefer to buy from companies that show how they are protecting customers against the threat of COVID-19.
Here are two ways healthcare communicators can connect with prospective patients:
Use storytelling
The value of patient testimonials to create an emotional connection can't be overstated and the pandemic experience provides rich opportunities for this kind of storytelling. Patients' stories help prove the value and benefits of care options and are a heavily used source of information for those deciding on a medical practice, doctor, or hospital. Some surveys estimate that as many as 91% of people read online reviews and 84% trust them.
Follow these tips to make patient testimonials convincing:
They must be real. The fabricated stories used in marketing products are considered unethical in healthcare. Real patient stories bring to life the experiences prospective patients care about when deciding where to go for treatment.
Give patients room to tell their stories. Don't script testimonials; let patients speak in their own words.
Emphasize emotional connections. The specifics of medical care are less import ant that patients' feelings about that care.
Make sure your patient stories reflect diverse voices. There's no one universal patient voice, so highlight diversity racial/ethnic background, age, socioeconomic level, and gender.
Use video if possible. Pictures and sound, more than text, trigger emotions, improve retention and are shared 12 times more than print.
Connect with content marketing
Communicators can reach patients during the pandemic by creating and using marketing content that provides needed information about COVID-19 and related health concerns rather than just promoting a healthcare provider or facility. Establishes institutions and healthcare professionals as community's medical authorities on the pandemic. Possible topics include:
Public service-type announcements focused on stopping the spread of COVID, providing sources for accurate information, and sharing resources with the community
Recognize and share gratitude for nurses, physicians, and even food services and housekeepers for their critical roles as they risk their own health to care for patients
Inform patients that healthcare facilities are safe and that everyone should continue routine health exams and treatments during the pandemic
Offering ongoing help for patients with long-term effects from COVID-19
Develop culturally relevant messaging to engage communities of color and raise awareness about the need for health equity by expand availability of care to improve health
Telehealth and virtual visits are here to stay, and patients will continue to demand convenience and accessibility, while maintaining their desire for a personal and emotional patient experience. The challenge for communicators is to promote healthcare innovations without losing sight of prospective patients' need for the confidence essential to developing trust and loyalty.
Need help building and communicating your brand reputation? Contact us today.