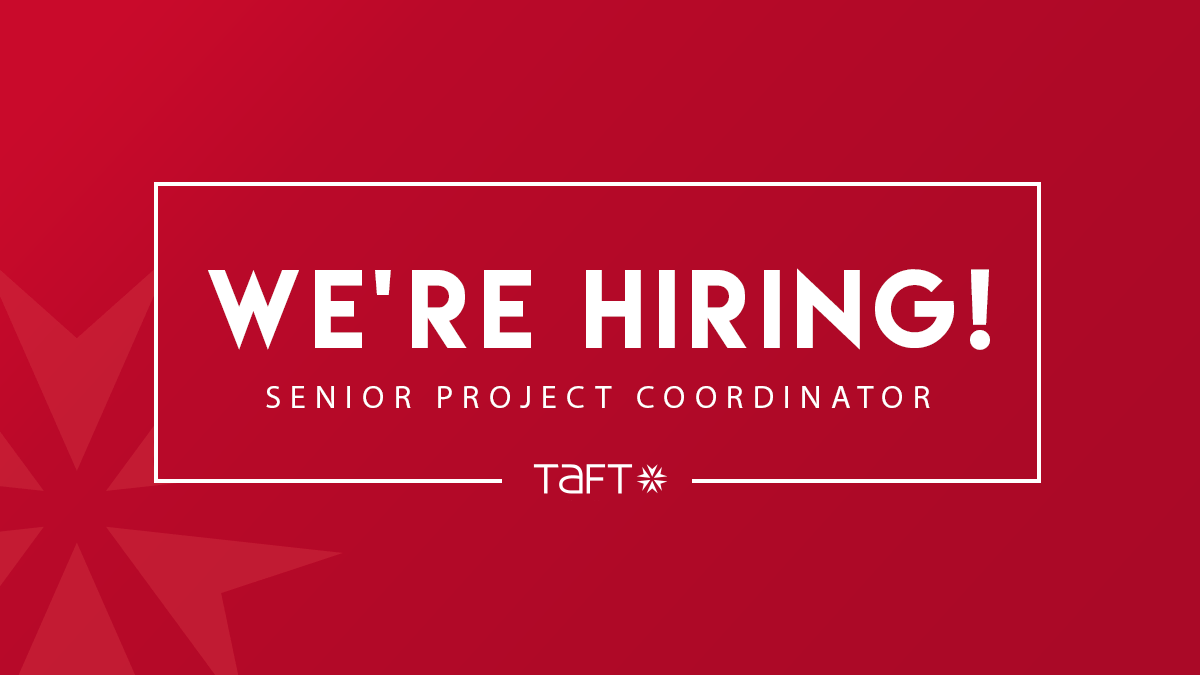 Do you want to help do good work?
Great! We do, too.
Do you have a flair for project management?
Then we'd like to talk to you.
We're looking for an awesome and ambitious Senior Project Coordinator to support our talented creative team's efforts to help Taft's clients articulate and amplify their purpose.
Qualities:
This position calls for a self-motivated leader and a team player who understands how individual tasks fit into the bigger picture; who is conscientious, detail oriented, naturally curious, and cool under pressure; who is confident communicating with clients; and who believes in continuous improvement, including bringing new methods and techniques to the team.
We seek employees who embrace the high value our company places on diversity and inclusion. Taft believes that diversity in race and ethnicity, gender, age, sexual orientation and all other aspects not only benefit the company and our clients, it benefits us as individuals. Taft is intentional about our efforts to recruit a diverse workforce. We are a social justice-oriented company that gives voice to our employees' views and recognizes the responsibility to help improve the wellbeing of our community, state, nation, and the world — both in our role as corporate citizens and in the work we do for our clients.
Responsibilities:
The Senior Project Coordinator will focus mainly on managing activity on assigned accounts, keeping account lead and clients informed, and maintaining momentum to help make sure projects are completed on time, within budget, and to the client's satisfaction.
This person is expected to:
Create and maintain documentation on all deliverables to a highly detailed level and provide account lead with regular updates
Coordinate internal and client project meetings and provide client reporting and results analysis of key programs and initiatives
Manage client approval for creative/production materials, copy, layouts, and production art to ensure they are in line with client and agency expectations
Assist in issuing change orders, as needed, and communicate proactively with the client
Assist in management of resources on assigned accounts so that projects are delivered to appropriate standards
Manage costs to help ensure profitability and assist in preparation of client activity reports
Escalate internal and/or client issues as appropriate
Coordinate project timing and budgets for creative deliverables with all relevant team members and provide clients with updates, as needed
Traffic creative content for Taft marketing activities, including websites, video, digital advertising, and social media
For the above activities, become proficient in using WorkBook management system software for project management and job tracking
Education/Experience:
Bachelor's degree plus 2-5 years direct experience in project management for a public relations/communications, marketing/advertising, or other similar professional services agency
Strong experience with scoping and developing budgets and schedules for creative projects
Project Management Certificate a plus
Familiarity with various types of projects and deliverables, including but not limited to creative concepting, video, digital, and other vendor management
What We Offer:
Competitive salary
Health and dental insurance, prescription drug plan, vision discount plan
401K plan with employer match
Generous paid family leave
16 days PTO
Summer Fridays and flexible hours
Work-from-home option
Annual bonuses based on company profitability and individual performance
Quarterly team-building activities
Professional development
Casual dress code
Employee Assistance Program
Gym access
Holiday celebrations
Employee Referral Program
New Business Success Program
PLEASE EMAIL YOUR COVER LETTER AND RESUME TO [email protected].  NO PHONE CALLS PLEASE.
Taft Communications LLC is an Equal Opportunity Employer.