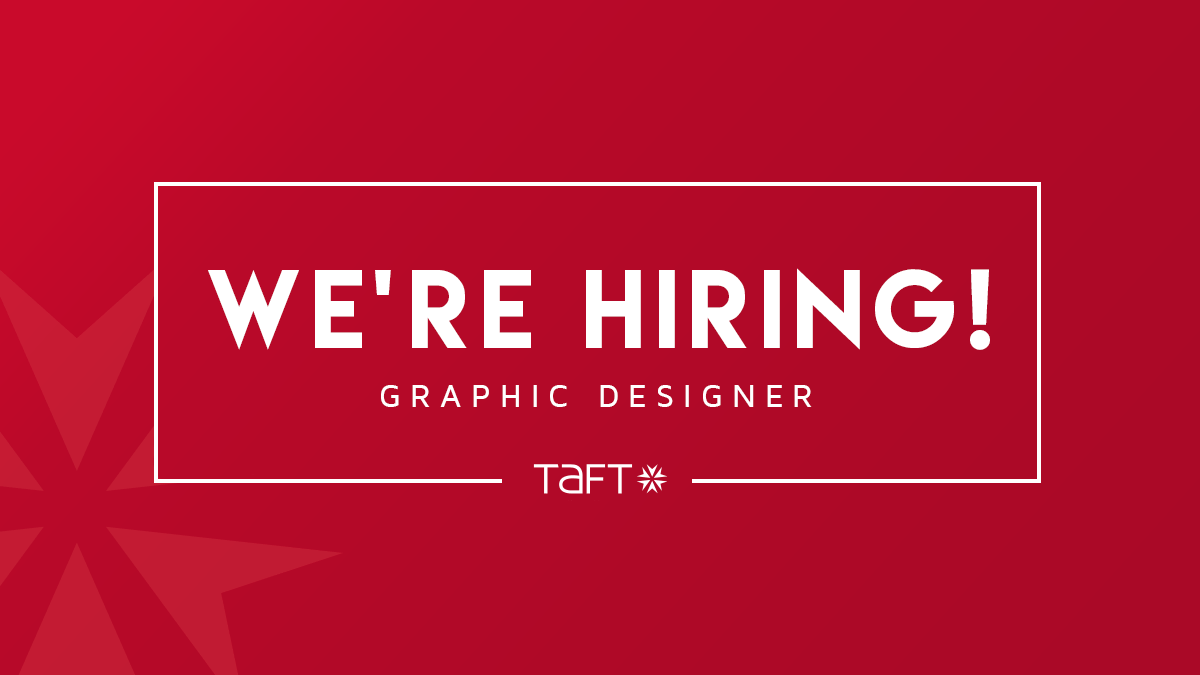 You've honed and refined your skills as a storyteller who communicates through concise, powerful, professional visuals. Now, you're looking to see if you might be able to apply that expertise to work you believe in — and that just might nudge the world in a better direction. If that's the case, we should talk.
Taft Communications is a specialty consulting firm that focuses on purpose and impact. We help businesses and nonprofits use the power of their core missions to make a difference not just in their organizations — but also in their communities and the world.
We're seeking a graphic designer with a background in corporate communications, advertising, marketing, or any related area in which high-quality comms pieces and internal communications were created as part of a positive, collaborative team and were able to achieve the desired strategic objectives.
While designing high-end corporate PowerPoint presentations is critical and central to the role, we also create a wide range of video content, digital and social media, long-form educational pieces, grassroots policy and advocacy campaigns, and traditional marketing materials. Our ideal candidate is someone who can not only create these pieces, but also has a desire to grow and lead teams of others through the concept and design phases of key client projects.
Position summary:
Design engaging, memorable and effective communications pieces that move audiences to action and advance client objectives. Work is primarily for corporate client base.
Skills:
Visual eye and expert hands to conceive and create designs for a wide range of media — digital, social, internal corporate PowerPoint presentations, print, collateral, event marketing, fundraising
Proficiency and expertise in key programs to generate work — PowerPoint, Photoshop, InDesign, Illustrator, file share programs like SharePoint
Proficiency in social channels — both external (i.e. Twitter) and internal (i.e Yammer)
Ability to work from a creative brief and generate original communications ideas that are clear, concise, thought-provoking and effective
Conceptual thinking — the ability to go from a blank page to a conceptual framework to a finished piece
Ability to internalize and adhere to various brand guidelines of a range of clients
Video editing capability not mandatory, but is a plus
Ability to strategize and collaborate with team members during meetings and brainstorms
Organizational, time management, task prioritization, and critical and creative thinking skills
Attention to detail
Ability to multitask and meet tight deadlines
An ambition and drive to constantly improve, grow the range and skill set of the Taft creative department, keep up and master emerging communications trends, and expand your own career as a creative
Responsibilities:
The Graphic Designer is expected to understand project requirements and concepts for assigned clients, under limited supervision from senior team members. This person is expected to:
Produce final design solutions
Pitch creative ideas
Support creative director and Taft creative department in meeting creative needs of our clients
At times, oversee designers and teams of designers to execute design work; this includes briefing in other designers, giving creative feedback and shepherding to completion work that is on-brand and on-message
Take on special design tasks (e.g., light photo re-touching, color correction, practical brochure mock-ups, etc.)
Use feedback from creative director or other designers to improve design work and final project outcomes
Track team assignments, schedule and prepare materials for meetings, traffic creative projects and manage client deliverables for assigned clients
Participate in and occasionally lead client meetings and routinely contribute ideas and/or suggestions
Education/Experience:
Bachelor's degree plus at least 3-5 years' experience in graphic design, preferably in a marketing, advertising, corporate communications or public relations capacity.
Experience in digital/creative/marketing communications and client support for health and life sciences is preferred. Other sectors of interest include energy and the environment, education and/or public policy.
Salary: $70,000 – $90,000 yearly
What We Offer:
Competitive salary
Health and dental insurance, prescription drug plan, vision discount plan
401K plan with employer match
Generous paid family leave
16 Days PTO
Summer Friday hours and flexible hours
Work-from-home option
Annual bonuses based on company profitability and individual performance
Quarterly team-building activities
Professional development
Casual dress code
Employee Assistance Program
Gym access
Holiday celebrations
Employee Referral Program
New Business Success Program
PLEASE EMAIL YOUR COVER LETTER AND RESUME TO [email protected]. NO PHONE CALLS PLEASE.
Taft Communications LLC is an Equal Opportunity Employer.