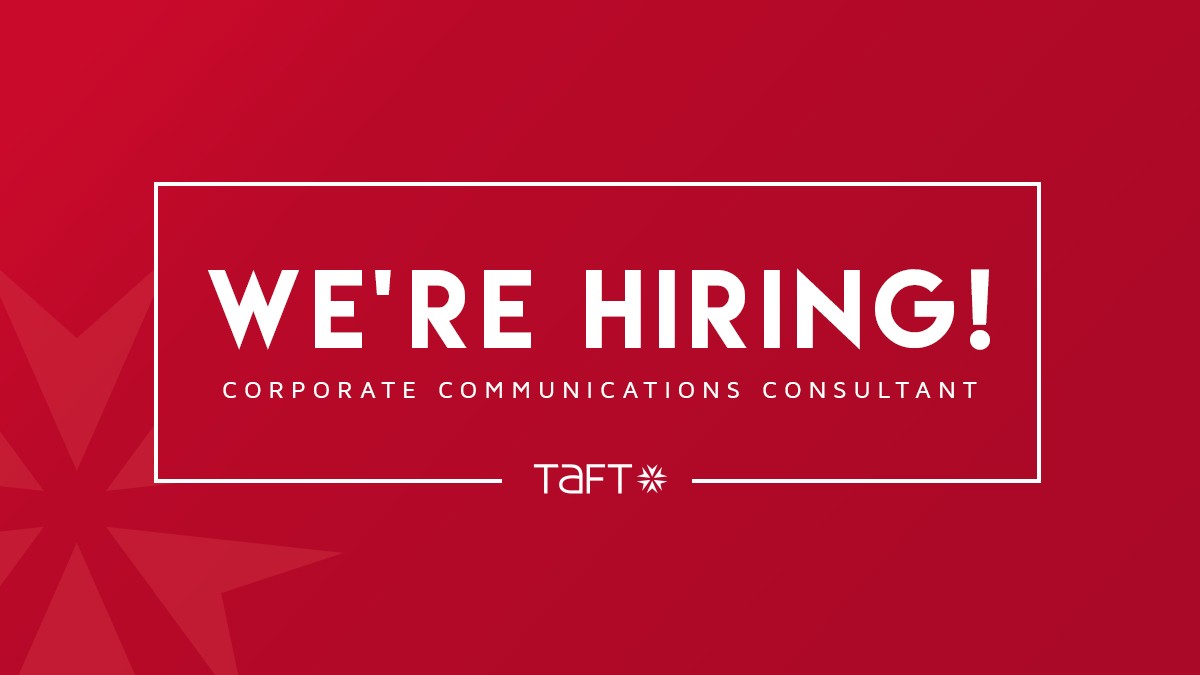 Is Corporate Comms Your Thing?
No business succeeds if the people working there aren't all on the same page when it comes to understanding and being able to communicate the mission.
Much of Taft's work involves helping companies achieve that goal, with a focus on engaging their employees in creative ways.
We need a savvy, freelance idea generator with the experience and mindset that wins executive buy-in for communications strategies and techniques that bring the workforce and other stakeholders on board.
Do you have that special blend of knowledge, insight, confidence, quiet assertiveness, and style that works well in the c-suite and knows how to put those good ideas in play? Do you happen to be well-versed in the world of life sciences?
Yes? Well, Taft may have a project for you! 
Role and responsibilities:
Serve as thought partner to client leads on development of communications strategies.
Communicate organizational initiatives and projects to employees and stakeholders
Plan, edit and write content for a variety of internal communications mediums.
Craft clear and high impact executive presentations
Draft messages or scripts from senior executives for presentation to employees in written or spoken form
Ensure internal communications messages are consistent across all mediums and for different departments of the organization/enterprise
Handle the internal communication response to crisis situations which affect organizational perception and reputation
Advise senior executives on communication strategies
Project manage the the execution of employee communications programs
Key skills:
Writing skills: Superior oral and written communication skills with an innate attention to detail and proofreading.
Speaking skills: Strong speaking skills as you are likely to be called on to give presentations to staff.
Interpersonal skills: Excellent interpersonal and relationship-building skills in order to work with clients, especially experience working within large organizations. Possess the confidence to deal with senior executives and help them strengthen their own communication techniques.
Creative skills: Experience working with creative resources to strategize and project manage copy-centric and visual tools.
Digital skills: Familiarity with information technology, especially video, digital and social media means of communication.
Qualifications:
A BA in journalism, communications, public relations or marketing is an advantage, though other degrees are often acceptable. Comfort with communications about science is preferred. MA qualification is preferred.
Relevant experience:
Minimum of ten years of communications experience.
Five years of experience serving as lead on communications team, especially internal communication, in a corporate environment. Life science/health experience is preferred.
Experience developing and implementing communication plans.
Experience creating content: digital, written, video, and visual communications materials.
Demonstrated experience building trust and influencing cross-functional teams and senior leaders.
Ability to exercise high judgment, particularly in narrow timeframes.
An agile, flexible individual with a can-do, problem-solving approach to managing ambiguity in a fast-paced and ever-changing environment.
PLEASE EMAIL YOUR COVER LETTER AND RESUME TO [email protected].  NO PHONE CALLS PLEASE.
Taft Communications LLC is an Equal Opportunity Employer.