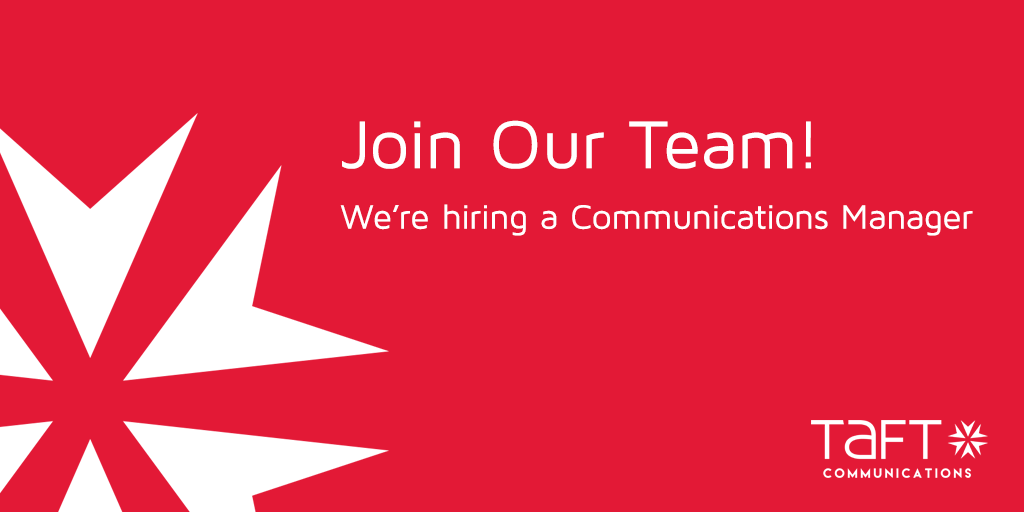 Does spending the morning preparing a comms plan for a statewide environmental campaign and the afternoon helping a global pharmaceutical firm get its message across sound like your kind of day?
Do you crush e-mail blasts, social media posts, and digital ads?
Then you just might be the person we're looking for.
This position calls for a self-motivated leader and team player who understands how individual tasks fit into the bigger picture; who is conscientious, detail oriented, naturally curious, and cool under pressure; who is confident communicating with clients; and who believes in continuous improvement, including bringing new methods and techniques to the team.
We seek employees who embrace the high value our company places on diversity and inclusion. Taft believes that diversity in race and ethnicity, gender, age, sexual orientation and all other aspects not only benefit the company and our clients, it benefits us as individuals. Taft is intentional about our efforts to recruit a diverse workforce. We are a social justice-oriented company that gives voice to our employees' views and recognizes the responsibility to help improve the wellbeing of our community, state, nation, and the world — both in our role as corporate citizens and in the work we do for our clients.
Responsibilities:
Develop and execute media relations strategy for clients, including creating media lists, writing and pitching press releases, op-eds, LTE's
For employee-engagement projects, help plan and execute multi-media internal communication programs, including writing executive messages
Identify fresh coverage opportunities for assigned clients via editorial calendars, media monitoring, and staying on top of newspapers/magazines/online news sites, and perform outreach via multiple channels (phone, email, social media, etc.)
Maintain knowledge of local and national media, PR, social media trends
Develop social media strategies and work alongside social media manager to execute social media plans for assigned clients
Develop content for various marketing activities, including websites, advertising, and social media
Provide general input on strategy and help drive communications planning
Project-manage contract deliverables, including scheduling and leading internal check-in meetings/calls
Participate in client meetings and prepare and provide written and verbal progress reports
Provide effective management of Taft resources to work with project manager to ensure projects are delivered to appropriate standards, on time and on budget
Manage agency and vendor costs to help ensure profitability and assist in preparation of client invoices 
Experience/Education:
This person should have 5-10 years of experience in media relations, journalism, public relations, public affairs, marketing, or public health. Experience in health/life sciences, education, or renewable energy/environment issues is preferred. Prior agency experience is preferred. Working knowledge of the New Jersey political landscape and issue campaign experience may be required for some roles. A bachelor's degree in a related field is required.
What We Offer:
Competitive salary
Health and dental insurance, prescription drug plan, vision discount plan
401K plan with employer match
Generous paid family leave
16 Days PTO
Summer Friday hours and flexible hours
Work-from-home option
Annual bonuses based on company profitability and individual performance
Quarterly team building activities
Professional development
Casual dress code
Employee Assistance Program
Gym access
Holiday celebrations
Employee Referral Program
New Business Success Program
PLEASE EMAIL YOUR COVER LETTER AND RESUME TO [email protected] NO PHONE CALLS PLEASE.
Taft Communications LLC is an Equal Opportunity Employer.