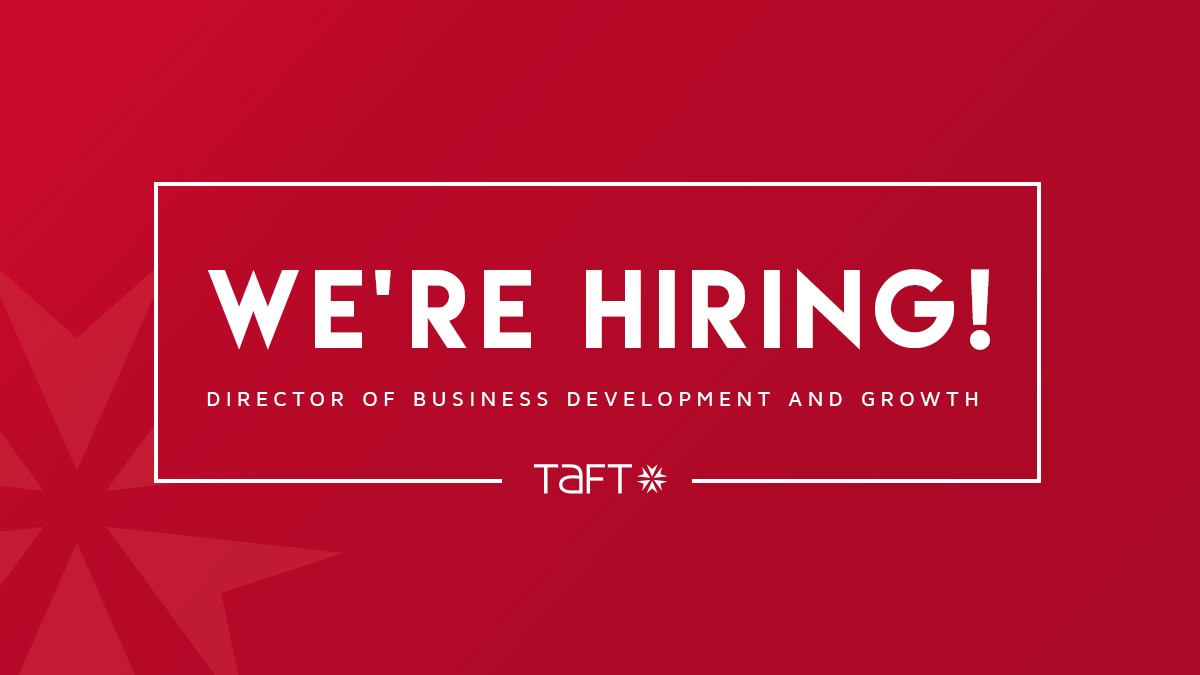 Are you working for a larger firm and like the idea of immediately being a central player in a smaller firm's growth? Do you already work for a small or mid-sized firm but don't feel fulfilled by the business you're pursuing? Are you searching for a firm with a deep commitment to justice, equity, diversity and inclusion in both client work and how the firm operates?
If you answered yes to any of the above questions, Taft may be the place for you.
Taft Communications is a boutique communications consultancy focused on purpose and impact. We apply our deep communications experience and passion for making a difference to help clients better articulate their core purpose and energize how they engage employees, drive social impact, strengthen DEI, commit to sustainability, and promote better health. Our clients are both corporate and nonprofit, largely (but not exclusively) in health and life sciences, and based throughout the US and beyond.
Taft is looking for an energetic and engaging "builder" with a desire to share our focus, a fire to help us grow our business, and the confidence to help tell our story before any audience.
Our Director of Business Development and Growth will primarily focus on seeking and securing new opportunities for the firm, in collaboration with senior Focus Area leads who are primarily focused on billable work. In Taft, you'll find a values-based firm that has more than tripled in size over the last seven years and is committed to sustainable growth for years to come.
More specifically, the Director will:
Work closely with senior management to identify and cultivate growth opportunities within current client base
Build an effective plan and work with Focus Area leads to target and pursue new prospects in our focus areas who don't yet know about Taft's expertise, and help expand business with existing clients
Lead our Business Development committee, removing roadblocks and improving collaboration
Drive proposal process for key opportunities, including updating BD toolkit and managing customized proposal and presentation development, with support of existing staff content, design resources and project coordinator
Conduct direct outreach to secure Taft introductory meetings and invitations for Taft to bid on new business
Liaise closely with our Associate Director overseeing Marketing and Lead Generation
Manage all aspects of Taft CRM, ensuring we track progress against key metrics and team follows up regularly on opportunities to drive better outcomes
Liaise with partner agencies and vendors who can strengthen the Taft offerings and/or provide referral business
The successful candidate should have:
At least 10 years of industry experience, at least part of it in a business development role with track record of success in winning agency business
A strong drive, creative approach and dogged determination to pursue opportunities at any stage and be driven by successfully securing new business
Excellent organizational skills to closely manage the firm's business development activities
Ideally experience with health and life science-related clients
A sense of humor and desire to work with a tight-knit team
An authentic interest in our purpose-focused work and making a positive impact on the world
What Taft offers:
The chance to make a quick impact on a growing firm
A competitive comp package – including both base salary and significant success-based incentives – as well as opportunity to advance
Lots of flexibility: our main office is located near Princeton, NJ, but the candidate will be required to be at the office only occasionally so does not need to be based in the area. Travel to clients and prospects (as COVID permits) will be crucial
A full benefits package, including generous PTO, medical, dental, and 401K
A smart, fun, and values-based team
A deep commitment to justice, equity, diversity and inclusion within our own firm and in how we use communications to strengthen our clients.
Intrigued? If so, please send a note and your LinkedIn to the attention of Ted Deutsch at [email protected]
Taft Communications LLC is an Equal Opportunity Employer.