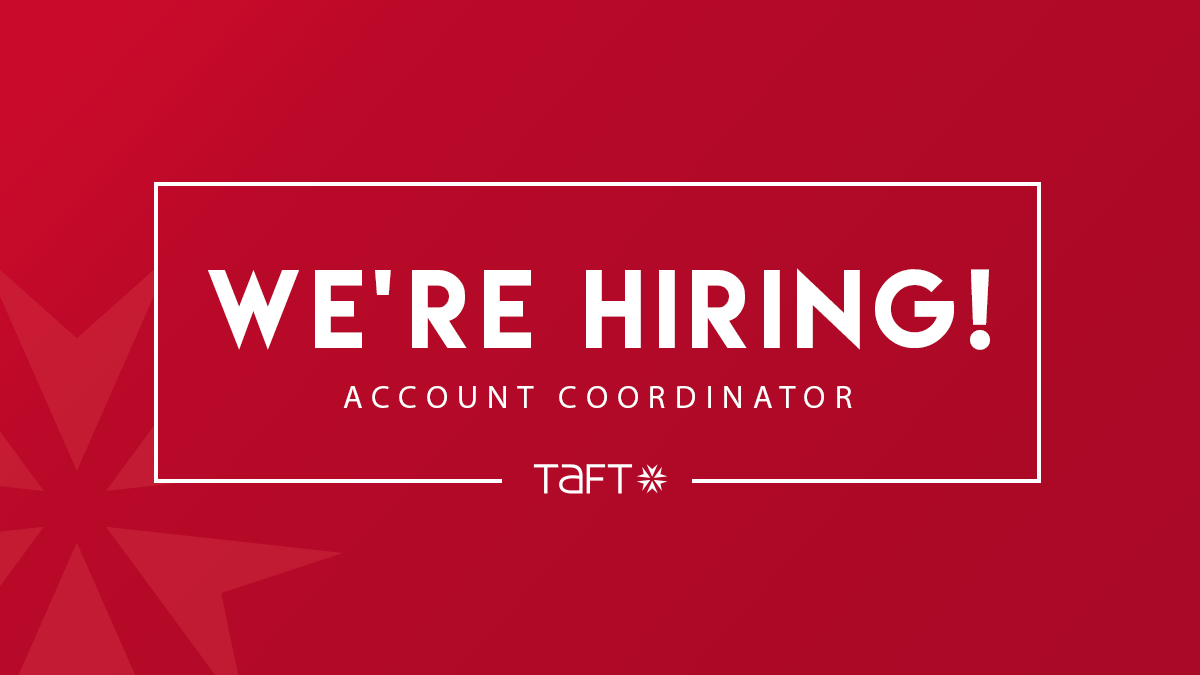 Do you want to help do good work? Have a flair for great storytelling? Love health, education and/or environmental causes? 
Great! We do, too.  
We're looking for an awesome and ambitious Account Coordinator who thinks outside the box to help convey ideas, accomplish missions, and inspire meaningful change for both our corporate and nonprofit clients. If you're a clever communicator with top-notch writing skills, social media savviness and a passion for public relations, we want you on our team. 
Qualities: 
This position calls for a self-motivated leader and a team player who understands how personal tasks fit into the bigger picture; who is conscientious, detail oriented, naturally curious and cool under pressure; who is confident communicating with clients; and who believes in continuous improvement, including bringing new methods and techniques to the team. 
We seek employees who embrace the high value our company places on diversity and inclusion. Taft believes that diversity in race and ethnicity, gender, age, sexual orientation and all other aspects not only benefit the company and our clients, it benefits us as individuals. Taft is intentional about our efforts to recruit a diverse workforce. We are a social justice-oriented company that gives voice to our employees' views and recognizes the responsibility to help improve the wellbeing of our community, state, nation, and the world — both in our role as corporate citizens and in the work we do for our clients. 
 Responsibilities: 
 An Account Coordinator is primarily focused on tactical execution under direct supervision of senior team members. This person is expected to: 
Demonstrate an understanding of client accounts and assist in supporting aspects of the clients' PR and social media plans on a day-to-day basis

 

Work with agency leaders to track, coordinate and provide research support to business development efforts

 

Media monitoring for clients

 

Create and maintain targeted media lists using Cision and other more targeted research tools, e.g. Google News.

 
Draft concise and impactful pitches, press releases,

op-eds, speeches, blogs, etc. for assigned clients and/or the firm.

 

Perform outreach/pitch via a multitude of channels (phone, email, social media) 

 

Identify new opportunities for coverage for assigned clients via editorial calendars, media monitoring and reading newspapers/magazines/online news sites

 

Maintain knowledge of local and national media business developments pertaining to client industries and PR and social media business trends.

 

Assist in conducting social media audits and analytics

 
Conduct research and assist in the creation of proposals and SOWs

 

Be efficient and develop an understanding of accurate time management, including prioritizing workload and submission of timely and accurate timesheets

 
 Education/Experience: 
A Bachelor's degree with 0-2 years' experience in communications, public relations or marketing in an agency environment agency preferred. Social media savviness, project management skills, basic graphic design and video editing skills are a plus. 
Salary: $45,000 – $55,000 yearly 
What We Offer: 
Competitive salary

 

Health and dental insurance, prescription drug plan, vision discount plan

 

401K plan with employer match 

 

Generous paid family leave

 

16 Days PTO

 

Summer Fridays and flexible hours

 

Work-from-home option

 

Annual bonuses based on company profitability and individual performance

 

Quarterly team-building activities

 

Professional development

 

Casual dress code

 

Employee Assistance Program

 

Gym access

 

Holiday celebrations

 

Employee Referral Program 

 

New Business Success Program

 
PLEASE EMAIL YOUR COVER LETTER AND RESUME TO [email protected].  NO PHONE CALLS PLEASE. 
Taft Communications LLC is an Equal Opportunity Employer